Things You'll Need
1 lightweight square scarf large enough to wrap loosely around your middle

1 yard matching grosgrain ribbon

Matching thread

Sewing machine

Scissors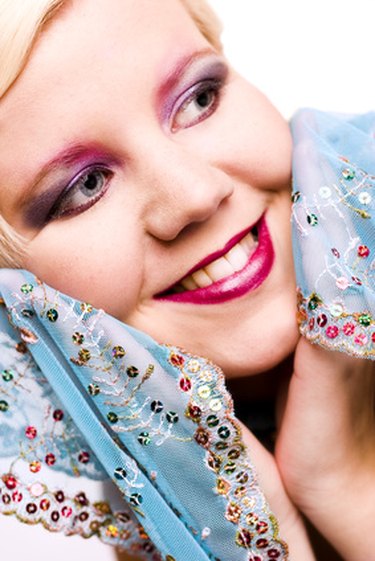 A seamless top, one without side or shoulder seams, is a fun project to make. Since it has no side seams, it has no extra bulk; its smooth lines look great either alone or worn under or over another garment. This seamless summer top can be made in less than an hour and looks just as cute layered over a long-sleeve t-shirt in the fall or winter.
Step 1
Wrap the scarf around your body, keeping the patterned or "right" side against your body. It should be rotated with one point at your chin, one pointing down and two wrapping around your sides.
Step 2
Pin the scarf, starting from the middle of your back (or wherever you would like the back of the shirt to reach), down in a straight line. The corners of the scarf should extend beyond your pinned line, becoming excess fabric in the shape of two triangles.
Step 3
Fold the top point down to where you would like the neckline to fall. Pin or crease the fabric to mark it.
Step 4
Take the scarf off over your head carefully. Use scissors to trim off the back corners about 1/2 inch from the pinned line, and the top (neckline) corner about 1/2 inch from the marked line.
Step 5
Fold the top corner down, toward the outside of the top, and pin 1/2 inch from the fold, making a casing.
Step 6
Sew the back seam 1/4 inch from the pins, then sew the casing just inside the pinned line.
Step 7
Trim the hem in back to 1/4" from the stitched line. Turn the shirt inside out to reveal the patterned side.
Step 8
Thread the ribbon through the casing. Tie the ribbon around your neck, letting the casing gather. Your new asymmetrical top has no side or shoulder seams for a sleek look.
Tip
Layer this shirt over a pretty cami or tube top.