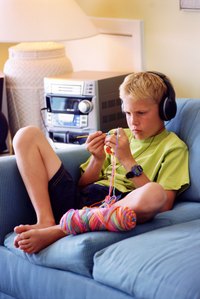 A shawl collar on a cardigan or vest is very cozy. The collar can be turned up against the wind to protect the back of the neck. Basically, a shawl collar is a collar and button band knitted as one piece, and the back of the collar is made wider by using short rows. Short rows are made simply by turning the knitting before you get to the very end of the row. You wrap a stitch to avoid a hole at the turn.
Things You'll Need
Heavy knitting yarn, preferably at a gauge of three to four stitches per inch
Large circular needle, size #6-8
Start knitting the shawl collar at the bottom left front corner of your cardigan. Knit up two stitches for every three rounds all the way to the shoulder. Pick up every stitch across the back of the neck. Then pick up two stitches for every three rounds on the way back down the right side of the sweater. Turn the knitting to knit back around the opening. The shawl collar will be knit in garter stitch, where you knit every row.
Knit to 10 stitches past the center back of the neck. Slip the next stitch onto the right needle. Bring the yarn forward. Replace the slipped stitch onto the left needle. Turn. You have now wrapped a stitch, avoiding a hole. Do this wrap at the end of every short row now. Continue knitting for 20 stitches. Turn (with a wrap) and knit 22 stitches. Wrap, turn and knit 24 stitches. Continue in this manner until you have eight ridges of garter stitch.
Mark the collar stitches at the shoulder seams. Increase between these marked stitches across the back of the shawl collar by making one after every three stitches. Continue knitting in garter stitch short rows, adding three stitches at each end before the turn. Continue in this manner until you reach the place where the sweater's V neck began.
Knit back and forth in garter stitch with no further short-row shaping for about six more rows, or until the shawl collar is the depth that you want it to be. Cast off the stitches on the edge of the collar. Add tab buttonholes if desired.
Make a tab buttonhole by picking up six stitches in a ridge of the border. Knit back and forth for three rounds. Knit two stitches together, and knit one stitch. Put these stitches back on the left needle. Knit two stitches, and place them back on the left needle. Continue to knit two and replace the stitches until you have a loop big enough for the button. Increase the number of stitches back to three stitches. Sew these three stitches back onto the original three stitches to secure the tab to the button band.