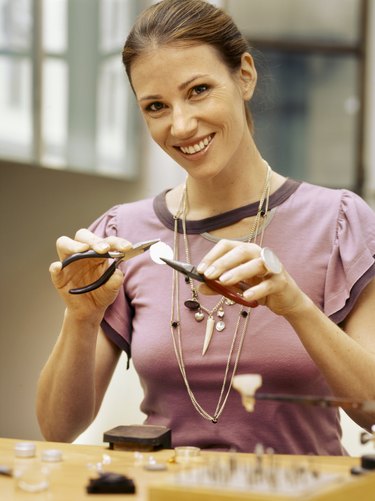 Etsy is an online marketplace for crafters and artisans to sell their handmade works. You can make a living selling handmade jewelry on Etsy by creating quality necklaces, bracelets and earrings using your own unique designs. Making a decent living on Etsy requires hard work, persistence and time. However if you are willing to devote yourself to working hard, you can work from home making a part-time, or possibly full-time career, doing what you love.
Step 1
Perform market research to study current trends in the jewelry and fashion industry. Design jewelry based on your own creativity and ideas; however, tailoring your designs to match current trends will help to improve overall sales.
Step 2
Sign up for an Etsy account. Click on the "Register" link on the top of the Etsy website homepage and follow the steps to complete registration. You will need to provide your name and email address and create a password to complete registration.
Step 3
Set up your Etsy store by clicking on the "Sell" link at the top of the homepage, and then click on the link "Sell on Etsy." The "sell" page provides links to a plethora of resources on how to sell and market your products on Etsy. Once you click on the "Sell on Etsy" link, follow the steps to set up your store. You will need to have a store name before you can sell on Etsy. Additionally, visit the Etsy blog for their "Seller Handbook," for any additional information on selling that you need.
Step 4
Decide on the theme and style that will represent your business identity. Choose colors and designs that represent your style of jewelry. Choose a business name and have a logo created based on the theme and style to use in your Etsy store.
Step 5
Register your business name through the Small Business Administration online, and apply for a resale tax number through the United States Department of Revenue Services website. Steps for registration and resale tax laws are different for each state. Click on your state's link and follow instructions on how to apply. With this number, you will be able to purchase supplies from jewelry suppliers at wholesale prices.
Step 6
Take high quality photos of your jewelry using a digital camera. Since a customer cannot touch the pieces and see them in person, it is essential that you provide the best visual representation of your pieces as possible. Take shots from several angles, including the back of the piece. Place a penny or quarter in the image for scale reference. Keep your photo styles in tune with the theme or style you develop for your business, by using coordinating photography backgrounds. Use appropriate display pieces or fabric backgrounds to emphasize the features on the jewelry.
Step 7
Write a strong description of your piece. Describe the jewelry-making technique you used, if applicable. Be creative and write an interesting description including information such as dimensions in millimeters, or inches for larger pieces, types of materials used and everything that is included with the purchase.
Step 8
Research the prices of similar jewelry pieces on Etsy, and price within this range. Avoid undercutting prices or pricing too high for the best competitive advantage.
Step 9
Build a strong reputation through good customer service to maintain positive feedback. Developing strong feedback from previous customers will build trust, and is important for growing a future customer base.
Tip
Create a database and keep track of selling trends so you can compare which of your jewelry pieces sell based on price, season, and style.
Create well-made jewelry using high quality supplies to inspire repeat purchases from your customers.
Warning
Do not give up too soon! Building a customer base and becoming successful on Etsy takes time.