Things You'll Need
Sewing pattern

Fabric marker

Straight pins

Sewing machine

Sewing scissors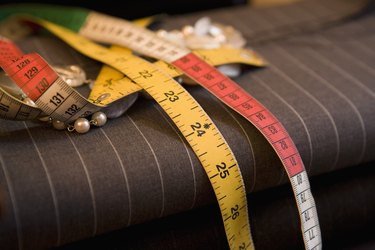 Pant darts are small folds of fabric created by sewing triangular shapes on a piece of clothing. You can make straight triangular darts in a pair of pants to create better shaping and fit in the waistband area. You will have to adjust the size on most pant patterns, but this technique is useful for tailoring a pant pattern to fit your curves.
Step 1
Sew the sides and inseam of your pants using a sewing pattern, and try the pants on before sewing the waistband to the pants.
Step 2
Measure for the placement of the darts. You can place two darts each on the front and back of the waistband, or only on the front or the back -- whichever you prefer. The dart should land halfway between the center front or center back of the waistband and the side seams of the pants. Mark this area with a fabric marker.
Step 3
Put the pair of pants on inside out. Create a small fold of fabric in the areas you marked with the fabric marker to pinch away the excess fabric and shape the pants to your waist. The fold should face outward, with the right sides of the fabric together. You will need another person to help with this if you're making darts on the back of the pants. Place a few pins, starting at the waistband and then creating a triangular fold downward toward the legs that is about two to three inches long, depending on how much fabric you have pinched. Remove the pants.
Step 4
Create a clean triangular fold where your pins start and end. When you pin the pants while they are on, the triangle dart you pinned may bunch up. Lay the fabric flat and recreate the triangle.
Step 5
Make sure that the darts on each side are the same length and width so they match.
Step 6
Stitch the triangular pleat using the pins as a guide. Start stitching at the waistband, and stitch to the point of the triangle. Backstitch by sewing forward and backward a few times to secure.
Step 7
Proceed with making your pants according to the sewing pattern instructions. Be sure to size your waistband according to the new waistband width you have created.
Tip
If there is excessive fabric in the darted area, consider adding two sets of darts to the front or back. Ensure that your side seams sit on your side when determining the number of darts and where to place them.
When adding the waistband, fold over the darts and catch the top edge in the waistband when sewing.