Things You'll Need
Bucket

Warm water

Detergent

Scrub brush

Masonry primer

Roller with 1-inch nap

2-inch paintbrush

Latex paint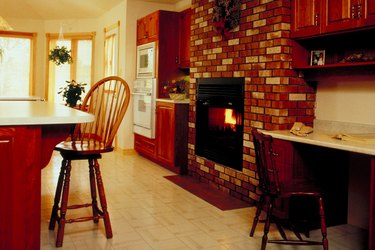 Many homes built in the 1970s or before included full-wall brick fireplaces that modern homeowners might not like. Whether you don't use the fireplace at all or simply do not like the look of its brick surround, consider refinishing it. Give your 1970s-era brick fireplace new life by cleaning it and painting it. Refinishing the fireplace might even make it an attractive focal wall for the room.
Step 1
Clean the brick thoroughly before attempting to refinish it. Brick can get dusty and dirty over time and pieces of the brick can flake off. Fill a bucket with warm water and a bit of detergent and scrub the brick with a sturdy scrub brush. Allow the brick to dry completely before moving on.
Step 2
Prime the brick fireplace with a primer designed for use with masonry. Brick is a porous material, so the primer will seal it. Failing to properly prime the brick can result in an uneven paint job, as the paint will simply soak into the brick. Use a roller with a 1-inch nap, along with a 2-inch paintbrush to help you paint the cement between the bricks. Allow the primer to completely dry.
Step 3
Paint the brick with latex paint in the color of your choice. Use the same types of roller and brush you used to paint the primer onto the fireplace. Allow the paint to dry completely.
Step 4
Add a second layer of paint to the brick to complete its resurfacing.
Tip
Paint your fireplace the same color as surrounding walls if you want it to be less noticeable. Choose a contrasting color if you want to make the brick fireplace stand out as a focal wall.