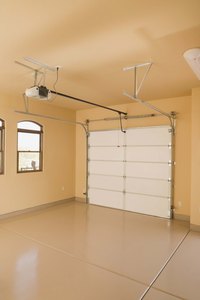 Steel-Line is an Australian garage door manufacturing and installation company based in Darra, Queensland; its electric openers are made by Boss, a division of the Steel-Line. You might want to reset the opener if you experience problems with the motor as a result of a power interruption or other fault. In some cases it's possible to fix the unit without opening a toolbox or calling a technician by following the reset procedure.
Locate the outlet supplying the garage door motor with electricity.
Unplug the opener and wait five minutes for the motor to cool down.
Re-connect the power; the motor will reset when the power is restored.
Try operating the unit as normal; the reset may have resolved minor software problems.