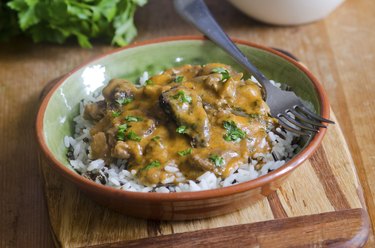 Start to Finish: 35 minutes Servings: 4 to 6 Difficulty Level: Beginner
While beef stroganoff originated in Russia and has since been adapted into variations all over the world, its common U.S. iteration is beef strips in a mushroom cream sauce, served over pasta or rice. You can opt for the simplistic version, using canned cream of mushroom soup and a few other ingredients, or create a beef stroganoff entirely from scratch.
Ingredients
1 package egg noodles
1 pound beef tenderloin or strip steak
Olive or vegetable oil
1/2 teaspoon onion powder
1/2 teaspoon garlic powder
1 can cream of mushroom soup
1/3 cup sour cream
1 package egg noodles
1 pound strip steak or beef tenderloin
3 tablespoons butter
1 1/2 cups sliced mushrooms
1 sliced leek
1 cup beef broth
2 tablespoons flour
1 cup sour cream
1/2 teaspoon garlic powder
1 tablespoon Worcestershire sauce
Canned Soup Beef Stroganoff Directions
Bring a pot of water to a boil, then add and cook the egg noodles.
Cut the meat into strips about 1 1/2 to 2 inches long and 1/2 an inch thick.
Heat a small amount of oil in a skillet over a burner set to medium-high.
Brown the beef strips on either side, for 2 to 3 minutes per side. Drain away any excess fat if applicable.
Add the garlic powder, onion powder, cream of mushroom soup and sour cream; then, turn the heat to medium and continue cooking until the ingredients cook down into a creamy sauce.
Serve the egg noodles with the meat and sauce mixture poured over the top. Season with salt and pepper if desired.
Scratch Beef Stroganoff Directions
Boil water and cook the egg noodles, then drain the water and set the egg noodles aside.
Slice the meat 2 inches long and 1/2 inch thick and brown over medium-high heat on both sides, about 6 minutes total. Set the meat to the side on a plate or paper towels while you cook up the vegetables.
Add sliced mushrooms, sliced leek and butter to the skillet used for the meat and turn down to medium.
Cook until the mushrooms are tender. Leeks are similar to onions, but offer a delicious and subtle flavor in a sauce. Add the meat back to the skillet.
Whisk in the beef broth and flour to create a sauce and bring the pan ingredients to a slow boil. Once it's boiling, reduce the heat back to medium-low.
Add the sour cream, garlic powder and Worcestershire sauce to the mixture, cooking and stirring until all the ingredients are mixed together. With the sour cream added, do not bring the sauce back to a boil.
Pour the sauce mixture over the cooked egg noodles and serve.
Storage
You can refrigerate leftovers for up to 5 days and still safely eat them. Or if you prefer to freeze beef stroganoff for a later date, mix the pasta and sauce together first, then transfer it to a freezer-safe container or to freezer bags. Seal tightly and freeze for up to 6 months. When you're ready to eat the frozen beef stroganoff, put it in a deep skillet or saucepan and reheat until the temperature of the dish reaches 165 degrees Fahrenheit. It's best to reheat this straight from its frozen state, as thawing it overnight in the refrigerator can make the pasta too mushy.