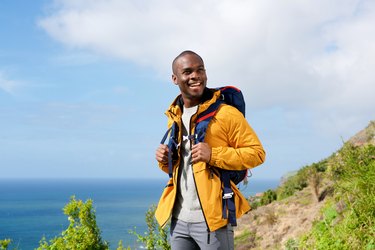 If your windbreaker has a stain on it, you'll want to remove the mess as soon as possible. This kind of outerwear is versatile as can be, and you won't want to be without it for too long. The good news is that windbreakers are made from breathable nylon, so they are not that hard to clean.
Nike Windbreaker vs. Rain Jackets
Nike windbreakers are different from rain jackets because the former is more lightweight than the latter. Keep in mind that windbreakers usually have a durable water repellent finish, but most lack waterproof membranes. Rain jackets keep you drier in the rain, but they are heavier and not always great for working out because they hold in heat and sweat.
A windbreaker can keep out that nasty strong wind but will not necessarily keep you as dry as a rain jacket. Windbreakers are more breathable and can be layered on top of other clothing. They give an extra protective layer against the wind that other base layers and fleece cannot always provide.
How to Clean Windbreakers
Windbreakers do not have to be washed that often. If yours is just wet from snow or rain, wipe it down with a clean cloth and let it air dry. When it is time for a thorough cleaning, read the label to see if you should not use certain products. These jackets often have water-repellent coatings that can get damaged in the wash, so it may be best to use nonchlorinated detergents and warm but not hot water. When washing nylon windbreakers, do not use powdered detergents or fabric softeners in the washing machine.
Flatten out your windbreaker and check for any stains. Dab a bit of liquid detergent onto the stain and use a clean cloth or damp sponge to rub it in a gentle, circular motion. Allow it to rest for five to 10 minutes. Place it inside a lingerie bag and wash it in cold water on the gentle cycle. You can dry it on low heat if the manufacturer's label shows that this is OK; otherwise, just let it air dry.
Removing Stains From Nylon Jackets
Some stains, like oil, are harder to remove from nylon windbreakers. If you have this kind of stain, lay down the jacket and put a paper towel under the stained area. Take a soft-bristle brush, work in 1 tablespoon of dishwashing liquid and let it work for five minutes. Rinse with cold water and put it in the washing machine as usual.
For tougher oil stains, dissolve 1/4 cup of oxygen bleach powder into 1/2 gallon of lukewarm water. Dip the ends of a clean, soft-bristle brush or washcloth into this solution, work it into the stain and continue doing that until the stain is gone. Launder as usual but be sure not to use hot water because that can damage the nylon.
For paint stains, try using just a bit of turpentine or mineral spirits, keeping in mind that mineral spirits do not smell as strong as turpentine. Dab on a bit with a cotton ball and see how that works. If it works, continue cleaning a little at a time until the stain is gone. Then, rinse the area with soapy water and then with clean water.