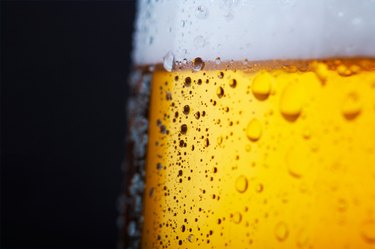 Ahhh, a delicious cold one, by the gallon. Just right for a large group, or one seriously misguided overachiever. Know the basics and you'll be all set for the big event. Keep the keg on ice so it stays cool and it will be your best party buddy, maybe you can even practice some keg stands for old times sake.
Step 1
Locate a liquor store, beer store or brewery in your area that sells kegs, and find out what's available. Do this one week in advance, in case they need to special order.
Step 2
Decide how much beer you need. A pony (half) keg is 7.5 gallons and serves 27 people three 12-ounce servings each, and a full-size keg is 15.5 gallons and serves 55 people three 12-oz. servings each.
Step 3
Choose between the less-expensive hand pump or the Cadillac-grade carbon dioxide pump.
Step 4
Bring your driver's license, a credit card and a deposit to pay for the keg. You'll get your deposit back as long as you return the tank and tap.
Step 5
Get your keg home. Some stores deliver; otherwise, get some heavy-lifters to help you hoist it to the party.
Tip
For a nominal fee or deposit, the store that sold you the keg may loan you a plastic tub to chill the beer. Ask them to throw in plastic cups, too.