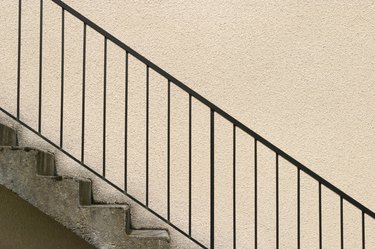 Handrails are essential for stair safety. They decrease the risk of falling, and building codes require them. Although local building codes determine where and when railings are required, you will have to figure out the stair railing length on your own unless you hire someone to do the work for you. You'll need to take quite a few measurements, so make sure you write down everything clearly; drawing a diagram is best.
How to Measure for a Stair Railing
To determine stair railing length, you'll need a tape measure. For a basic staircase with no landings, start by measuring the overall height: the distance from the floor at the top of the staircase to the floor at the bottom of the stairs. Then, measure its overall length. This length involves measuring the horizontal distance from the nosing edge on the floor at the top of the stairs down to the nosing edge on the first tread at the bottom.
Next, measure your top nosing edge of the first tread to the top edge of the floor nose. This measurement is not the same thing as the overall length measurement. Now, you have to measure the length of a single finished tread from front to back to get its depth. Measure the height of the finished tread by measuring the height of one riser from its base tread to the next stair's base tread. You can now go online to search for a stair railing length calculator; enter your measurements, and it will let you know the length.
Other Considerations for Stair Railings
Home improvement stores and other outlets sell code-approved handrails and the accessories you'll need to perform this installation. Keep in mind that if your stairway has one or more landings, you'll need to measure all of those separately and have separate handrails. These measurements all need to be taken so that you know how much material you'll need to buy.
New stair railings are generally attached to the studs in the walls. Use a stud finder to locate those wooden studs and use an easily removable material, like masking tape, to mark them. As an experienced DIYer can tell you, these studs are not always where you need them to be, so you can also use some metal toggle anchors to mount your stair railing bracket if the studs are in an inopportune location. Also, be sure to use a level to ensure that the railing is plumb when you install it.
OSHA Stair Railing Requirements
For the safest handrail installation, even if you're not legally required to follow them, it is still wise to follow Occupational Safety and Health Administration (OSHA) guidelines used for commercial buildings. This is a good idea for many reasons, primarily because stair railings provide adequate handholds for people to grasp and prevent potentially catastrophic falls. OSHA requires these stair railings on stairways with at least four risers or ones with risers measuring at least 30 inches high.
Stair railings cannot be more than 37 inches high off the floor, and they cannot be less than 30 inches from the upper surface of the stair railing to the surface of the tread. Spiral stairways must have handrails as well, and temporary handrails need a minimum of 3 inches of clearance between the rail and walls. If a stair railing is in the wrong position or is the wrong size, it will not do its job of protecting people who use those stairways.