Things You'll Need
Inspira quilting frame

Instruction diagram manual

Wrench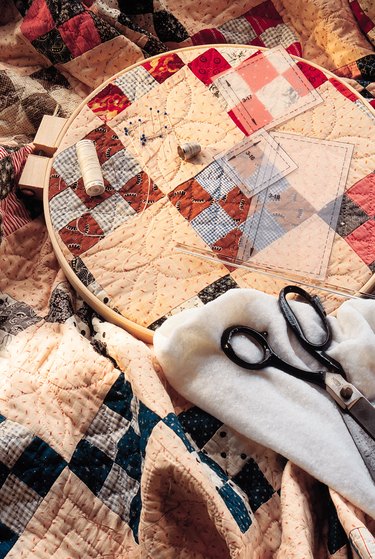 The Inspira Quilting Frame is a metal quilt frame used with a sewing machine for machine quilting. Unlike a plastic quilting frame, the Inspira Quilting Frame requires a wrench and bolts to put together. While a plastic frame is convenient for travel and made for easy assembly and disassembly, the Inspira Quilting Frame is a more permanent device.
Step 1
Decide how tall and wide the quilting frame will be. Put together all six frame legs, according to the manual diagram. The leveling foot attaches with the nut assembly. The nut assembly sets the height, and is how you adjust the legs. Pull the pin out, adjust the height, and replace the pin.
Step 2
Build the side leg assembly using one short leg, one long leg, and the corresponding brackets and hardware listed in the instruction manual. Repeat for the opposite side of the frame.
Step 3
Attach the horizontal frame components to the leg as show in the instructional diagram. Each leg requires one short leg piece and one long leg piece, held in place by a bolt. Repeat this step with each leg.
Step 4
Assemble the track support as shown in the manual. For a frame over 5 feet, place a coupler between each track support. Attach the track supports to the frame legs, as shown in the diagram.
Step 5
The tracks slide into the track supports. Assemble the tracks and supports so that they resemble a rectangle.
Step 6
Attach the frame tabletop to the shelf support, as shown in the diagram. This is where the quilt will rest while quilting.
Step 7
Attach the rail bracket, the front rail end assembly and the bungee brace as shown in the manual.
Step 8
Complete the frame by attaching the ratchet wheels to the legs, building the top and bottom carriage assembly as shown in the manual, and attaching the carriage assemblies to the quilt frame. The frame is now ready for use.
Tip
When choosing a width for the frame, consider your quilt size. Smaller quilts require smaller frames.
Warning
If the bolts are not tight, they can snag your quilt and rip the fabric.