Things You'll Need
Wine bottle

Running water

Paper towels

Drop cloth

Glass etching creme

Disposable gloves

Masking tape

Paintbrushes

Contact paper

Craft knife

Soap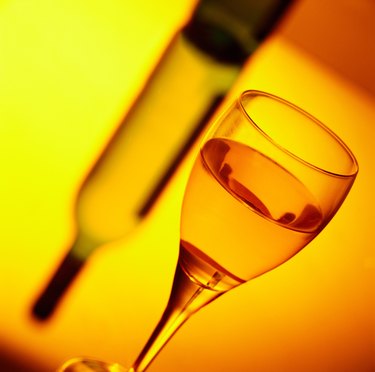 Frosted wine bottles are perfect for a wedding, a bridesmaid event, or as handmade gifts for friends and family. Whether you're making your own wine or using the wine bottles for homemade flavored cooking oils, a frosted wine bottle adds an elegant touch to your product. Do it yourself wine-bottle frosting is simple, and it gives you the freedom to create any design you desire. Be silly and add polka dots or make elaborate drawings of flowers, animals and people.
Preparation
Step 1
Clean your wine bottles and allow them to dry. Wipe off any water spots or lint with a clean paper towel.
Step 2
Decide what style of decoration you wish to apply to your wine bottle. You can paint a freehand design, use pre-designed stencils or create your own stencil with the contact paper.
Step 3
Prepare your work area. Cover your worktable with a drop cloth and place all tools on the table. Glass etching creme is an acid and will etch wood, metal and plastic surfaces.
Step 4
Put on a pair of disposable gloves to protect your hands from the glass etching creme.
Design Your Wine Bottle
Step 1
Tape over areas of the wine bottle that you do not want to frost.
Step 2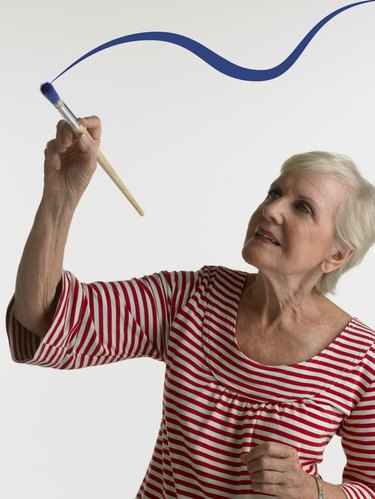 Paint freehand designs with a variety of paintbrushes. Use small brushes for fine detail and larger brushes to fill in large areas.
Step 3
Adhere pre-made stencils onto your wine bottle with masking tape.
Step 4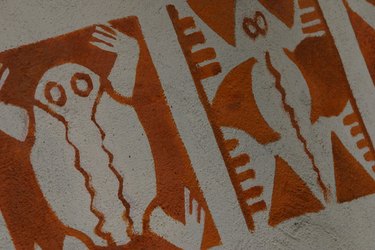 Create a personalized stencil by drawing a design on contact paper and then tracing the lines of the drawing with a craft knife. The stencil can function in two different manners. You can cut around an image and frost everything except the stencil, or you can frost the center area of your image and leave the remainder of the wine bottle clear.
Frost Your Wine Bottle
Step 1
Paint the etching creme in the negative area around or within your stencil. Be sure to apply a thick coat to create an even frosted texture.
Step 2
Allow the etching creme to set for the manufacturer's recommended time -- about 10 to 15 minutes.
Step 3
Wipe off the etching creme with paper towels and then wash the residue away with hot water and soap.