Things You'll Need
4 yards earth-tone fabric

Scissors

3-foot rope

Belt

Blue scarf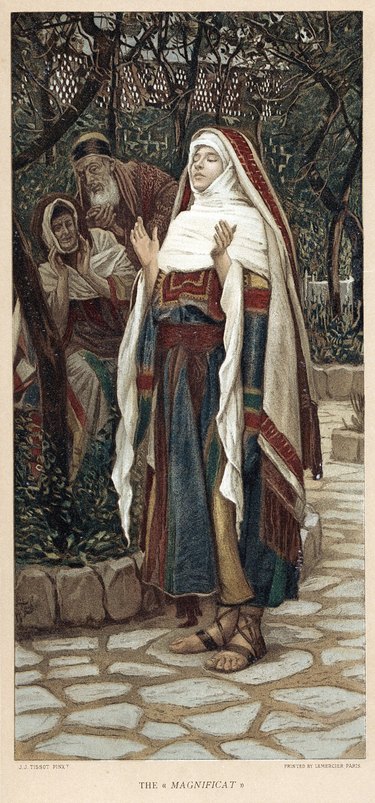 Mary and Joseph are among the most famous characters in the Bible. Dressing up as Joseph and Mary is a fun way to learn or teach others about the lives of these important people. Making clothing that is representative of that worn by Joseph and Mary is simple. The head coverings and gowns can be purchase online or made at home. These costumes can be worn in Harvest Festivals, church plays, Nativity reenactments and any other occasions in which Mary and Joseph clothing is required.
Step 1
Select a large rectangular piece of fabric in natural earth tones such as brown, white and beige. Use linens that are free from decoration in order to save money on purchasing fabric.
Step 2
Take the measurements of the people who will dress as Mary and Joseph. Cut the rectangle to a length that is no longer than two times the height of the person who will wear the costume.
Step 3
Fold the sheet in half and cut a hole in the center. Put the fabric over the person's head so the head protrudes through the hole.
Step 4
Tie a rope around the waist of the robe to create Joseph's robe. Tie a piece of fabric around the waist to create Mary's robe.
Step 5
Place a piece of fabric around the head and secure it with a rope to form the head covering that Joseph likely wore.
Wrap a blue scarf around the hair to form the head covering that Mary likely wore.