Things You'll Need
Tape measure

Stretchy fabric

Fabric marking pencil

Scissors

Straight pins

Sewing machine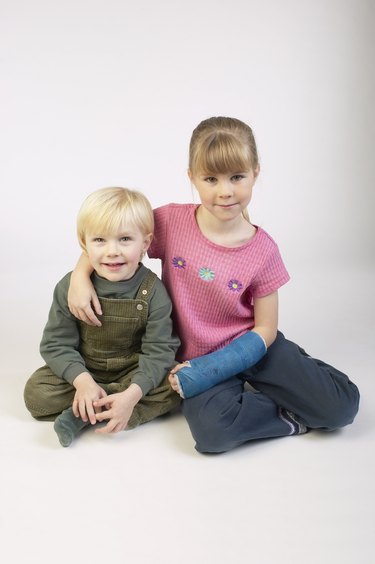 Cover any unsightly cast with a fabric slip-on cover. Whether you need to dress up or dress down your cast, a simple cover pattern will work for you. Choosing the stretch fabric for the cover will make all the difference in the world. The choices range from the solid black fabrics to brightly colored sparkly fabrics and everything in between. Bring the fabric cast cover together with the aid of a sewing machine in an hour or two.
Step 1
Measure the length of the cast. Measure the circumference of the cast at both ends. Add 1 inch to all three measurements.
Step 2
Lay out the fabric on a flat surface. Mark the length measurement near the top edge of the fabric, going across the width of the fabric. Mark each circumference length starting at either end of last measurement marked at a right-angle. Draw a straight line from the end of each of the two last marked measurements. This forms a rectangle shape with the bottom length at a slight angle.
Step 3
Cut out the fabric on the marked lines.
Step 4
Fold the fabric with right sides together, matching the angled cuts up. Pin into place. Sew a 1/2-inch seam allowance with a stretch stitch setting on the sewing machine.
Step 5
Fold each end under 1/4-inch twice and pin into place. Sew at the bottom edge of the fold with the same machine setting, making the stitches 1/4-inch from the opening's edge.
Step 6
Slide the cover onto the cast. Create more covers in a variety of colors.