Whether your child wants to show some patriotic spirit on Independence Day or you just want to engage in a creative craft project, a tricorn paper hat is both easy to make and a good object to decorate. A tricorn hat, which was fashionable at the time of the Revolutionary War, features three corners by folding up the brims. You can make your own paper tricorn hat with a few simple materials and whatever decorations you can find laying around.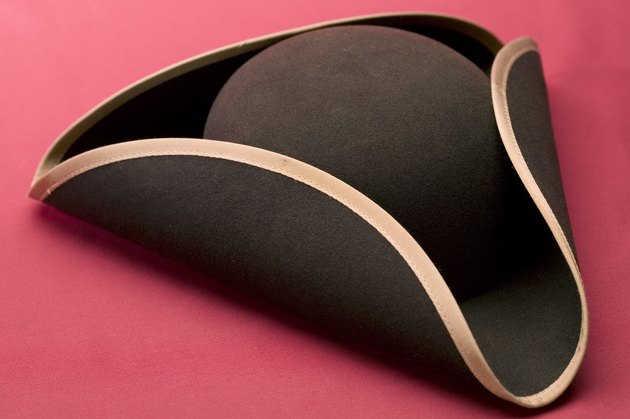 Things You'll Need
Pencil

Construction paper

Scissors

Glue

Glitter

Yarn

Markers

Stickers

Stapler
Step 1
Draw the outline for the shape you want for all three sides of the hat using a pencil on pieces of brown or black construction paper, or you could even make a red side, a white side and a blue side. Measure them so that they are about twice as long as the child's head.
Step 2
Cut out the shapes with the scissors.
Step 3
Apply a line of glue along the top outline of each of the three sides and sprinkle glitter over them to create a trim. You can also use yarn or construction paper instead to create the trim. Let the children put their own decorations on the sides, such as glitter stars, stickers or drawings with markers. Allow the sides to dry when finished.
Step 4
Staple the sides together so they form a triangle and the hat is ready to wear.