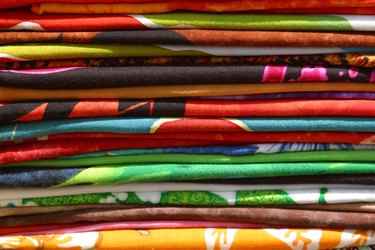 The iconic Ikea Poäng chair is one of its best-selling items of all time, and many who have them feel that these comfortable, minimalistic chairs serve their purposes well. Created by Japanese designer Noboru Nakamura and Ikea's Lars Engman back in 1970, the Poäng features a curved backrest, cantilevered seat and a bentwood frame. Millions buy these chairs each year, and many decide to make their own covers for them.
The basic styles for these inexpensive chairs are priced at $89, but you can also get higher-priced ones with headrests or Poäng rocking chairs. Ikea also sells separate matching ottomans, kids' Poängs and extra cushions. The cushions cover the bottom of the seat and go all the way up the back, but you can buy seat cushions separately if the built-in ones aren't comfortable enough.
The cushion colors are pretty standard for the most part: beige, gray, black, dark blue and yellow with maybe a few more options. The covers are made from cotton and polyester plus linen and viscose. They are filled with polyurethane foam and use a 100 percent polypropylene filling. Some have zippers so that you can remove the covers for cleaning. These covers are not machine washable, but you can clean them with a vacuum attachment and then wipe them down with a damp cloth.
Homemade Poäng Chair Covers
Poäng chairs are pretty basic, and you can make new cushion covers if you need to replace the old ones or when you just want to add some more style and pizazz. If you know how to sew, this shouldn't take you long at all. These directions are for a cover with a head cushion. To start, find a durable fabric that you love and cut three pieces: 12 inches by 23 inches, 36 inches by 23 inches and 71 inches by 27 inches. Center the pieces and pin them together, following how it was done on the original fabric.
Now, hem the ends together by folding the fabric over half an inch and sewing straight lines. Place the fabric down lying inside out and fold your 36-inch piece over just about 10 inches past the edge. Now, fold your 12-inch-long side of the shortest piece over 3 inches past the edge. Beginning in the middle of one of your sides, pin the edges together, pinching and pinning as you go. After you get to the ends of the fabric, keep the line the same, with 2 inches of extra on your top piece.
Now, you can sew your last two lines. Start 1 inch from the end and finish 1 inch before you get to the end of the fabric. You can tuck in the corners when finished. Flip the cover right-side out and you can place the cushion inside the envelope opening. The last step is to tuck the fabric inside the two creases at the back of the head cushion and seat.
Another Poäng Chair Upgrade
You can also give a Poäng chair new life by painting it. Remove the old cover and cushion and put them aside. These frames are made from layer-glued bent birch, a plywood that is durable and can hold up to being painted. You'll want to use an oil-based or latex paint for this particular painting project. If there are any cracks, repair them with wood glue and sandpaper before you begin painting so that you don't ruin the fresh coat.
Remove any debris from the sandpaper or glue with a damp rag and use a drop or two of dishwashing soap if needed to ensure the deepest clean possible. Allow the chair some time to dry completely and apply one coat of primer. Follow this up with two thin coats of the paint. When it is dried, you can add your newly recovered seat cushions plus a matching pillow or two.