Things You'll Need
Mixing bowl

Cornstarch

Measuring cups

Food coloring

Plastic bag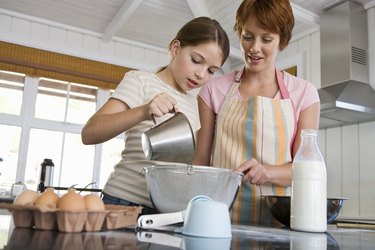 One thing many kids can agree on is the more gross something is, the better it is. Slime certainly fits that description and there are many recipes based on school glue. These slimes can be fairly complicated and may take some time to set up. You can make an easy slime with cornstarch that will have your kids delighting in its disgusting nature. They don't need to know that it's actually pretty clean.
Step 1
Pour 1 cup of cornstarch powder into a mixing bowl.
Step 2
Measure out between 1/4 cup and 1/2-cup of water to the cornstarch, depending on how thick you want your slime to be. More water creates thinner slime.
Step 3
Add 10 drops of red food coloring and 5 drops of blue food coloring to the water. Mix the food coloring in.
Step 4
Add the colored water to the cornstarch powder.
Step 5
Knead the two ingredients together with your hands into slime.
Tip
If the purple in the slime is not intense enough for your liking, make another batch with double the amount of food coloring. Store your slime in the refrigerator to extend its life.
Warning
This slime can stain your skin and some fabrics.