Things You'll Need
Template material

30 fat quarters

Sewing machine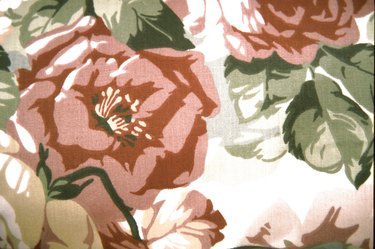 The Turning 20 quilt pattern is an updated version of a quilting classic. It is a great pattern for a beginning quilter, since each block is assembled from only three pieces, and there are no curves or points involved. This pattern is good for showing off the large floral fabric patterns that are so popular currently. The secret for creating an appealing Turning 20 quilt is in the selection of fabrics, mixing color, scale and design into a eye-catching combination. A queen sized quilt can be made from thirty fat quarters, technically making this a "Turning 30" quilt.
Step 1
Cut four templates out of template material: a 10-1/2-inch x 10-1/2-inch square, 7-1/2-inch by 10-1/2-inch rectangle, 7-1/2-inch by 17 inch rectangle, and a border template measuring 4 inches by 17 inches.
Step 2
From the 30 fat quarters of fabric, cut one piece from each fabric in the shape of each template using the rotary cutter and cutting mat. Sort into piles according to shape.
Step 3
Sew the square piece to the shorter rectangle, with the 10-1/2-inch sides together, allowing 1/4-inch for seam allowance. Finger press the seams open. Sew the longer rectangle across the top of the two joined pieces. Save the border materials until you have created all the blocks. Each block should measure 17 x 17 inches.
Step 4
Assemble the blocks by turning each one 90 degrees, taking care that the square pieces don't line up against each other. Sew the blocks together, making six rows of five blocks each. Your dimensions, prior to adding a border, should be 85 x 102 inches.
Step 5
Add the quilt border pieces to the outside edge of the blocks.