Things You'll Need
2" thick foam sheets

Ruler

Pencil

Utility or craft knife

School glue

Card stock paper

Scissors

Paint or markers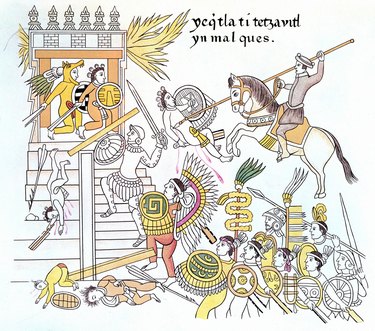 Aztec temples, or Teocalli, were the centers of religious worship in Aztec culture. Aztec priests prayed, worshiped and made sacrifices and offerings to the gods at these temples. An Aztec temple is a four-sided structure resembling a pyramid with stairs up one side and a flat surface with a shrine at the top. You can introduce children to Aztec culture and architecture with a simple temple craft that pays respect to the past and encourages imagination.
Step 1
Reconstruct a basic Aztec temple by building a five level pyramid out of 2-inch thick foam sheets. Measure an 18-inch square and mark it with a pencil on the foam. Cut the foam with a utility or craft knife. Create four additional squares that measure 16 inches, 14 inches, 12 inches and 10 inches square.
Step 2
Glue the foam layers together with school glue with the largest square on the bottom and the 10-inch square at the top.
Step 3
Measure and cut three pieces of thick, card stock paper with a pair of scissors to measure 10 inches long with tapered shapes that widen from 10 inches at the top to 18 inches at the bottom. Cut the pieces of paper so that they resemble triangles like the sides of the temple. Glue the pieces of paper to three sides of the temple. Line up the narrow ends with the top edge of the temple and the broader ends with the base on three sides. Leave one side of the temple uncovered so that the Styrofoam layers on that side appear as steps.
Step 4
Cut six 2-inch squares out of foam sheets. Make two stacks comprised of three squares each. Place a layer of school glue in between each square and glue the two stacks of three squares together so that each stack forms a small box. Use the boxes to represent the sacrificial chambers at the top of Aztec temples. Explain to the children making the craft that these are where Aztec priests sacrificed nearly 20,000 Aztec people each year to their gods, to keep their gods happy. Glue the boxes to the top layer of the temple craft.
Step 5
Encourage children to color the temple with dragon designs as dragon statues were often placed at the base of the stairs of Aztec temples. Let the children draw Aztec symbols on their temple to apply what they've been learning about Aztec culture.
Warning
An adult should cut the foam sheets.