You probably know the Phil and Lil twins from Nickelodeon's beloved "Rugrats" and "All Grown Up!" shows. Imagine how adorable a Phil and Lil costume would be on your kids (or yourself) this Halloween. A Phil and Lil Deville costume looks great on toddlers and is especially cute on babies. You can easily make these costumes at home by looking at pictures of these cartoon characters and by buying the right materials.
Who Are Phil & Lil Deville?
The two are friends with the Rugrats' main character, Tommy Pickles, and are almost identical except that one is a girl and the other is a boy. Of course, you don't need to have fraternal twins to make the costumes; it can be your child and a friend, brother and sister, two brothers or two sisters.
Both Phil and Lil are practically bald with small shocks of brown hair; Lil's is accented with a small, pink bow. They both wear pink shirts with vertical black lines. Phil has a teal-green overall-style top with blue shorts, while Lil wears a matching dress. You can see their diapers most of the time, but these certainly do not have to be shown for their costumes; cover them up with a matching diaper cover if you'd like. Their tops also have a yellow duck-like applique on the left, and a pocket with a tissue on the right.
Other than that, the twins wear white crew socks and shoes. Lil's are the same pink as her shirt, and Phil's match his shorts. On their TV shows, everyone mixed the twins up and didn't know who was who. Therefore, the most important thing to focus on with Phil and Lil Rugrats costumes is to make them look as identical as possible.
Phil and Lil Costume Supplies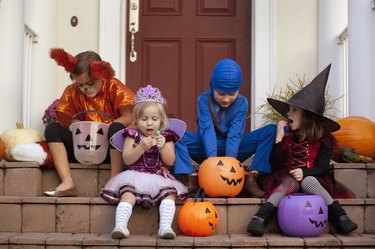 For these costumes, you will need a teal green, green or blue overall-style top and dress, a pink short-sleeved shirt with thin black stripes, blue shorts, a pink bow, white crew socks, and pink and blue shoes. Of course, you don't have to stick to this look 100 percent, but the more you do, the more authentic the outfit will look. For extra authenticity, use small yellow duck stickers on the costumes.
If you can't find overalls with pockets, draw them on using a fabric marker or paint; you can also draw the tissues, and fill them in with white fabric paint. Use the marker to draw lines on their pink shirts.
The shock of brown hair can be problematic if your little one has a lot of hair; you certainly won't want to cut or color it just for a costume. You could have your child wear a hat with the costume (especially if you live in a cold climate). Worried that people won't know or be able to identify the costumes? Just make Phil & Lil name tags as a finishing touch.
Tommy Pickles has a simple look, with a short-sleeved blue shirt, diaper and bare feet. This alone is not the makings of a good Halloween costume, but if you have a group dressed as Rugrats, it could be funny for an adult to dress up like this, with a bald head covering. Angelica is another favorite from the series and is more recognizable. She has blonde hair tied up high with two lavender be-ribboned ponytails, and wears a red striped top, a lavender jumper, blue leggings, red socks and lavender shoes.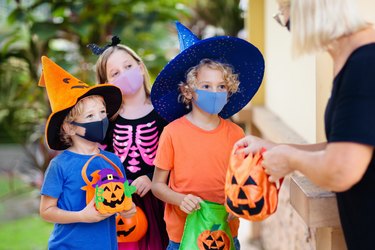 Another fan favorite, Chuckie Finster, is perhaps the most recognizable Rugrat. Chuckie has wild red hair, purple-framed glasses and an overbite. For this costume, find a flaming red wig and pull it up so the pieces stick out. You will also need purple glasses, a blue shirt, green shorts and red sneakers. To complete the costume, attach a picture of Saturn (yellow and red) to the chest and wear a pair of fake buck teeth.