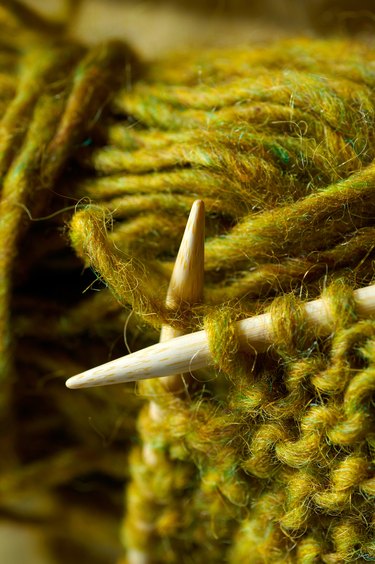 Turning your work while knitting enables you to start a new row of knitting when you have reached the end of the row, or to build upon an existing row of knitting for techniques such as short rows or entrelac. It is a basic knitting task, but just as all knitting is built upon two basic stitches, turning your work helps you build complex shaping and texture into knitted garments.
Step 1
Determine where you need to turn your work. For knitting patterns involving short rows or entrelac, the pattern will tell you to turn your work after a certain number of stitches. Otherwise, you turn your work after each row when knitting flat pieces.
Step 2
Grasp both needles in your right hand, stacking the needle from your left hand over the one already in your right. Grab the ball of yarn with your left.
Step 3
Turn the needle closest to your right hand around so that the side of the knitting that was facing away from you is facing toward you, and grasp it in your left hand. The needle point that was facing left should now face right.
Step 4
Bring the working yarn behind your work, away from you, if your next stitch is a knit stitch. Bring the working yarn in front of your work, toward you, if your next stitch is a purl stitch.
Step 5
Continue knitting as specified by your pattern.
Tip
You do not need to turn your work when knitting a piece in the round, such as when you are knitting the top of a sock on double-pointed needles or the body of a sweater on a large circular needle.