Things You'll Need
4 buckets with lids (from hardware stores or bulk coffee cans), minimum 4-inch diameter

4 pine poles, ridged curtain rods or steel poles, 4 feet to 6 feet tall

Saw

Quick-set concrete mix with instructions

Approximately 3 buckets of water

Stirring stick

Work gloves

Spray paint

4 attractive cup hooks (cartoon character, burnished steel/designer hooks)

Duck or tarp twice the canopy area + additional 3 inches on all sides

4 yards of fabric for buckets

Grommet kit for thick fabrics (grommet tools included)

Scissors

Craft knife

Pencil

Measuring tape

Sewing machine

Thread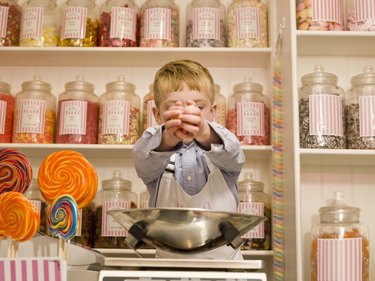 Candy carts bring out the child in everyone. Fabric canopies are the big come-on from afar, enhance candy choices up close and provide product protection. This fabric canopy takes only half a day to make, collapses easily for quick storage and transport and can be changed to suit any venue or occasion: corporate events using company colors; stadiums, movie theaters and theme parks with bold, colored stripes; private parties with specified theme colors. Duck and tarp are the best fabric choices, but a child's play candy cart can use any bed sheet with a fun design of his/her choice.
Base Posts
Step 1
Measure and saw off the canopy height for your posts. If a slant is desired, saw off your back posts 6 inches to 12 inches taller than your front posts.
Step 2
Turn each bucket upside-down. Trace the post's end onto the center of each bucket bottom.
Step 3
Follow instructions to mix quick-set concrete with water. Fill each bucket until almost full. Cover, flip over and tamp down to settle concrete.
Step 4
Quickly cut out the marked bottoms from each bucket with a craft knife. Work fast to insert each post in a bucket; straighten poles and let dry for 30 minutes or so. Spray paint all poles and buckets.
Fabric Canopy
Step 1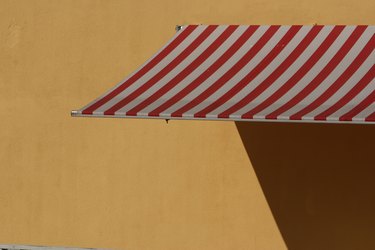 Determine your canopy area: measure the length and width of the candy cart. Add 3 inches on all sides for the flaps and grommets. Double the measurements if you want the design on the roof and ceiling of your canopy.
Step 2
Fold fabric in half and mark the actual canopy area on the center of your fabric; a drawn rectangle should emerge. Stitch the canopy area. Hem on all sides with ¼ inch margin.
Step 3
Mark 1/2-inch outward on all four corners of the canopy area for the grommets. Slit grommet marks 1/2 inch long and insert a grommet base through each slit. Follow the kit's instructions to nail down each grommet for all four corners.
Assembly
Step 1
Test base posts for dryness. Screw in one cup hook on top of each post. Cover buckets with matching canopy fabric.
Step 2
Position each post on each corner of the candy cart.
Step 3
Hook your fabric canopy onto the posts.
Tip
Use solid colored gift wrap paper instead of fabric. Position the poles by the perimeter of your candy cart. Use 6-foot poles for these.