Things You'll Need
Egg carton

Small paper cups

Elastic

Hole punch

Pipe cleaners

Felt

Scissors

Glue

Paint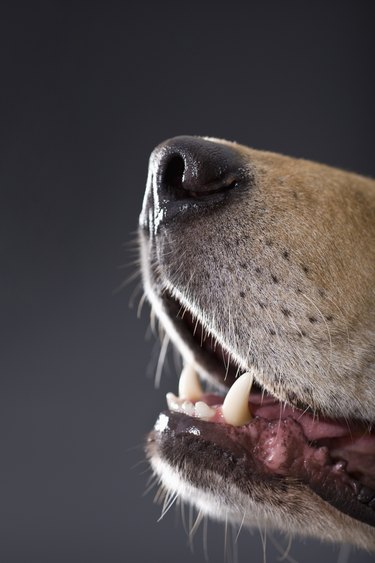 Making animal noses can be a fun craft project for a preschool class or for a rainy day at home. Kids will love wearing these dog noses in their imaginative play. This quick and easy project uses items you probably already have around the house
Step 1
Cut a piece of elastic large enough to fit around your head with about 5 inches to spare.
Step 2
Cut a section out of the egg carton to simulate the nose. If you prefer, use a small Dixie paper cup. The paper cup will make a longer dog snout.
Step 3
Paint your nose piece whatever color you wish: brown, black, white with black spots or any color dog your child imagines. Cut a piece of fabric and glue it over your nose piece if you prefer a fuzzier nose.
Step 4
Get creative with whatever craft supplies you have in the house. For a basic nose, cut a rounded triangle out of black felt and glue it to the tip of the nose piece. Paint a few freckles on either side. Cut 2-inch pieces of pipe cleaner to make whiskers. To help your whiskers stand up, poke pin holes into the cup and press the ends of the pipe cleaners a little ways into the holes before gluing.
Step 5
Attach the elastic when your nose is complete and dried. Use a hole punch to make a hole on each side of the nose near the outside edge. Tie one end of the elastic through one hole. Hold the nose up to your face and stretch the elastic around to the other side. Tie the elastic through the other hole at the point where it is stretched securely but not too tight. This may take a couple tries. When it fits correctly, trim off the extra elastic, and secure the knots with glue on the inside of the nose.
Tip
You can use almost anything to personalize this craft. Noses can be adorned with buttons, pom-poms, sequins, yarn or anything else you have on hand.
Warning
Don't punch the holes for the elastic too close to the edge. You don't want the nose to tear with repeated use. Reinforce your nose piece with masking tape on the inside if desired.