Things You'll Need
300 to 350 yards of worsted, or 4-weight, yarn

Size 8 knitting needles

Scissors

Yarn needle
An infinity scarf, or cowl, is a fashionable accessory that can update your wardrobe while keeping you warm. Infinity scarves are easy to wear and eliminate the pesky loose ends of regular scarves. A simple seam will turn a flat knit scarf into an infinity scarf in a jiffy. A pretty textured edge offsetting a lacy center panel makes this cowl both feminine and practical. This pattern can be knit in cotton, acrylic, wool or any combination of fibers to suit your style.
Step 1
Step 2
Knit Row 1 by alternating knitting one stitch and purling the next across the entire row. (K1, P1 across)
Step 3
Work Row 2 by alternating purling one stitch and then knitting the next stitch across the row. (P1, K1 across)
Step 4
Repeat Rows 1 and 2 until the piece is 3 1/2 inches long. Be sure to end with a Row 2. This creates the seed stitch border.
Step 5
Work the center pattern row by knitting 2 stitches, then making a yarn-over, followed by knitting 2 stitches together. Continue alternating yarn-overs and knit 2 together stitches across the entire row. Knit the last 2 stitches. (K2, *yo, K2tog ; repeat from * to last 2 stitches, K2)
Step 6
Repeat the center pattern row until the piece measures 9 1/2 inches. You are knitting 6 inches of the pattern.
Step 7
Knit 2 rows straight across.
Step 8
Bind off all stitches loosely.
Step 9
Trim your working yarn, leaving an 18-inch tail.
Step 10
Use a yarn needle and your working yarn to sew the two ends of the scarf together, taking care to line up the stitches neatly.
Step 11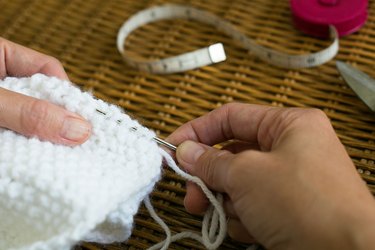 Tip
Make several in different colors to coordinate with your wardrobe.
These make wonderful gifts for friends and family.
This pattern works well with solid or variegated yarn.
Make the infinity scarf longer by knitting more center pattern rows.