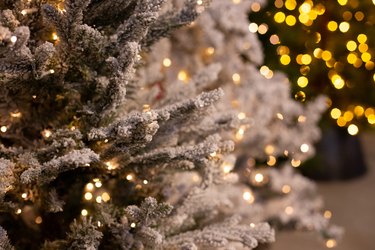 Leading up to Christmas, having a flocked tree makes your living room feel a little bit like a winter wonderland. After the holiday, having a flocked Christmas tree becomes less than ideal. Treating the branches of your tree with flocking makes them look like they're covered in snow, but the chemicals used in that process make flocked trees challenging to dispose of. Figuring out what to do may take a few phone calls to your municipality's recycling and waste management services.
Flocked Trees and Recycling
It's common for municipalities to offer tree recycling services in the weeks following Christmas. Residents can leave their trees curbside, and they'll be picked up by waste management. Real Christmas trees can be recycled in several ways. Municipalities commonly turn them into mulch to use for landscaping public areas or for residents to use. Trees can also be turned into compost or even sunk to the bottom of ponds or lakes to create healthy habitats for fish.
However, flocked trees are generally not accepted for recycling. Wood can't be recycled if it has been contaminated by a chemical product, like flocking spray. It's very unlikely that your municipality's tree recycling service will take your flocked tree, though it doesn't hurt to check. Keep in mind that you might find flocking or artificial snow products labeled as biodegradable, but this doesn't mean you'll be able to recycle the tree. Recycling workers who look at a flocked tree will automatically reject it no matter what product was used.
How to Dispose of a Flocked Christmas Tree
Assuming your municipality won't pick up your flocked Christmas tree for recycling, getting the tree to a landfill is generally going to be your only viable option for disposing of it. Trying to convert the tree into mulch, compost or firewood yourself isn't a good idea because you don't want to release the chemicals used in the flocking product into your soil or the air.
So, how do you get a flocked tree to the landfill? If you have access to a saw, you may be able to safely cut the tree into pieces small enough to fit into trash bins or contractor-grade trash bags to be left curbside for pickup. If that's not feasible, you may need to transport the tree to a landfill yourself. Because every municipality has its own rules and recommendations for waste disposal, the best option is to call your local solid waste agency for specific guidance about landfilling a flocked tree.
How to Make a Flocked Christmas Tree
Despite the disposal challenges, many people still want to know how to make a flocked Christmas tree. Nestling ornaments and lights into the "snowy" branches lets them shine in a way you don't get from a traditional green tree. The best solution may be to flock an artificial tree. Using the same flocked tree over and over is a more sustainable choice than landfilling a real flocked tree each year.
There are a lot of options for how to make a flocked Christmas tree. Some people use a DIY approach and experiment with household products, like soap flakes and cornstarch, but buying flocking powder or flocking spray is easier. With either product, work in a ventilated area and cover the floor and other nearby surfaces with plastic to protect them from the inevitable mess. Fluff the branches until you're happy with the shape of the tree.
With flocking powder, you'll generally start by misting the tree with water. Pour the powder into a kitchen sifter and gently tap the sifter as you move all around the tree, sending a gentle cloud of powder onto the damp branches. If you're using spray, flocking the tree is as simple as applying hairspray to your hair. Use a back-and-forth motion to evenly coat the branches. In either case, let the tree dry completely before adding lights and ornaments.