Parquet flooring adds a unique design element to any room, especially with all the types of parquet to choose from. Parquet wears well and can last for years. However, if parquet flooring gets damaged by water, there is really only one solution — to replace the affected tiles or area. Parquet is made of a thin veneer of wood that is glued onto a base. Since the veneer is so thin, sanding and refinishing is not an option, as it could be with traditional hardwood flooring. Replacing a parquet tile or area of tiles is a job a handy homeowner can do. Many hardware and home improvement stores carry all the supplies needed for this job.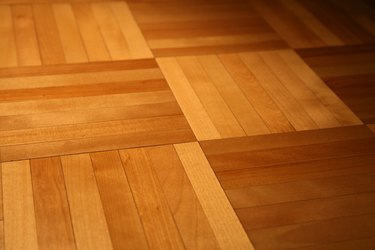 Things You'll Need
Parquet Tiles

Pry Bar

Trowel

Parquet Glue

Scraper
Step 1
Pry up the damaged tiles, using a pry bar. If they are still glued on tightly, use a hammer to tap the pry bar and get under the tiles. Often with water damage, the tiles tend to pop off easily; however, some may be stubborn and need convincing.
Step 2
Scrape the glue away with a scraper. It is important to take away all of the remaining glue. Otherwise, the new tiles will not stick well and could pop off easily.
Step 3
Spread the glue with the recommended trowel. Check the label on the glue bucket for the correct notch size on the trowel. Apply glue by holding the trowel at a 45-degree angle. This ensures maximum glue coverage and optimum adhesion.
Step 4
Place the new tile on the glue and gently press it in place. Do not squish the glue out from under the tile. Press enough to eliminate air bubbles only. Let the glue set completely before walking on the new tiles. This usually takes 24 to 36 hours.
Tip
You can use a rubber mallet to set the new tile so it is even with the surrounding tiles.
Warning
Make sure the area is well-ventilated when applying the glue.