When you are putting together a wizard costume for a class play, costume party or for Halloween, you can sometimes have a hard time finding a long white wizard's beard at a costume shop. One solution is to make a wizard's beard yourself using a few basic materials. These materials are commonly found inexpensively at any arts and crafts supply store and can allow you to make the beard look exactly as you had envisioned.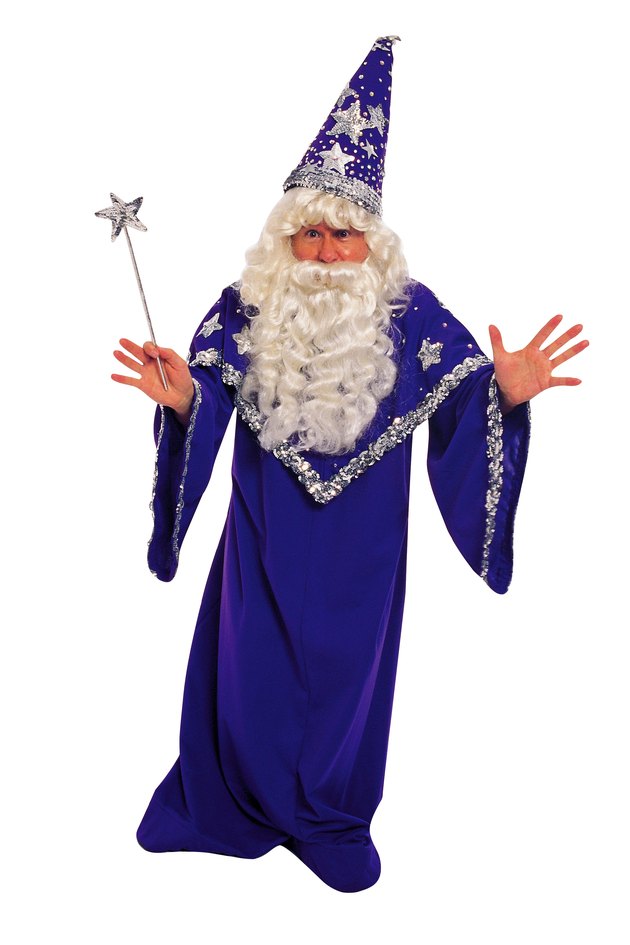 Things You'll Need
Elastic ribbon, 1-inch wide

Scissors

Elastic ribbon, 1/4-inch wide

Thread

Needle

Wool roving
Step 1
Cut 1-inch wide elastic ribbon using scissors to measure 8-inches long.
Step 2
Cut a 1/4-inch wide elastic ribbon using scissors to measure 4-inches long each.
Step 3
Sew the two 4-inch long elastic ribbons into two loops using a needle and thread. Sew one elastic loop onto each end of the 8-inch long elastic ribbon. The loops will fit over your ears when the bead is complete.
Step 4
Insert a hot glue stick into a hot glue gun, and plug in the hot glue gun to heat up for 10 minutes.
Step 5
Stretch out 1 lb. of white wool roving into a sheet that measures 12-inches wide, 36-inches long. Fold the sheet in half lengthwise.
Step 6
Squeeze a line of hot glue along the length of the 8-inch long elastic ribbon, and press the fold of the wool onto the hot glue. Allow the hot glue to cool for two minutes.
Tip
Use curly wool roving for a curly wizard's beard, or straight wool roving for a straight wizard's beard.
Warning
Keep hot glue out of the reach of children. Hot glue can cause severe burns on skin.