Things You'll Need
Green construction paper

Stapler

Plastic headband

Green craft foam

Scissors

Hot glue gun

Craft glue

Glitter glue
A Greek laurel wreath can be very meaningful. The wreaths, once used in ancient times to denote a victorious winner, are now associated in modern times with events like the Olympics. Kids can make their own head wreaths quite simply and be a winner in whatever arena they choose to be. This project lends itself to creativity so let kids design their head wreath for more individual results.
Step 1
Cut a long length of green construction paper that will fit around your child's head and staple it together. Alternately, the base of the head wreath can also be a plain green plastic headband.
Step 2
Cut leaf shapes out of green foam or green construction paper.
Step 3
Attach the leaves to the headband with either craft glue or a stapler. If you are using a plastic headband for the base of the wreath, hot glue foam leaves on to the headband.
Step 4
Decorate the finished head wreath with green glitter glue if desired.
Step 5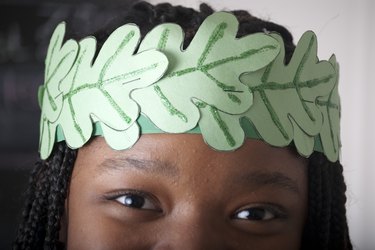 Fit the construction paper wreath around your head to wear it. To wear the plastic headband wreath appropriately, place it on the back of your head in the center so the ends of the headband are over your ears.