Things You'll Need
Wool yarn

Scissors

Elastic ribbon

Thread

Needle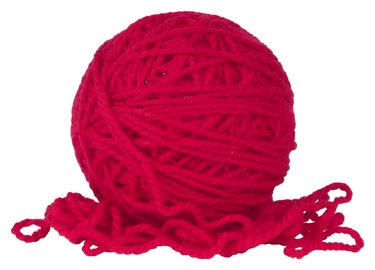 When you are putting together a horse costume for a theatrical production, class play or for Halloween, you can end up spending a lot of money on costume accessories if you buy them from a costume store. One solution is to make the horse costume accessories yourself using craft supplies. For example, create a yarn horse tail using a few basic materials that can be purchased from any arts and crafts supply store, like yarn and hot glue.
Step 1
Cut 30 40-inch pieces of yarn using scissors. Place the pieces of yarn together into a stack.
Step 2
Cut a 24-inch piece of elastic ribbon using scissors.
Step 3
Fold the stack of yarn in half, and wrap the elastic ribbon around the middle of the folded stack of yarn.
Step 4
Sew the ends of the elastic ribbon together with thread and a needle. This will be the band that will sit around your waist.
Step 5
Grasp the folded area of the yarn where it overlaps the elastic, and wrap a piece of yarn around the folded area. This will secure the yarn onto the elastic, and will make the yarn look more like a tail.
Tip
Adjust the measurements according to your specific project.
Warning
Keep sharp scissors out of the reach of children.