Things You'll Need
Garter belt

Garter suspenders

Thigh-high stockings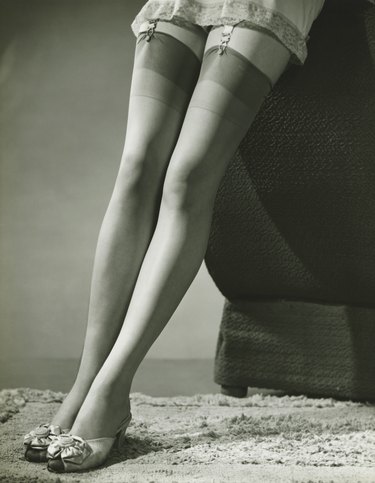 Before the invention of panty hose, women were limited to wearing garter belts to hold up their stockings. Thigh-high stockings were held in place by garter suspenders, which were attached to garter belts. Today, women often wear stockings as part of their lingerie outfit for a special night with their significant other. If you've never hooked stockings onto to your lingerie, then you may find the task intimidating. Don't sweat it. It only takes a few minutes to become familiar with hooking, and unhooking, your stockings from your lingerie.
Step 1
Make sure your garter belt suspenders are attached correctly. The garter belt is situated around your hips. The suspenders hang straight down from the garter belt, on the front and back of each leg.
Step 2
Tug on each suspender to make sure it's attached securely. Adjust the straps to where you want the end of each suspender to hang on your legs.
Step 3
Bring your thigh-high stocking up to meet the end of the garter suspender. The end of each suspender will have a rubber-tipped snap closure.
Step 4
Open the end of the garter suspender by sliding the rubber tip up until it can fit through the wire opening. Pull the tip out through the opening to unhook the snap closure.
Step 5
Slip the top edge of your stocking into the opening of the snap closure. Push the rubber tip back through the opening at the top of the closure.
Step 6
Slide the rubber tip down to the narrow part of the closure. This will lock the stocking in place. Repeat this process for the rest of your garter suspenders.