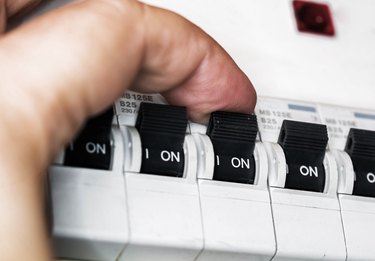 Circuit breakers with a push button to test are commonly called arc-fault circuit breakers or arc-fault circuit interrupters (AFCI). These outlets and breakers are critical because they use electricity more efficiently and have prevented countless accidents and house fires. They were developed in response to problems in home electrical systems that caused many devastating fires.
What Are Arc-Fault Circuit Breakers?
Power switches and outlets facilitate electrical connections between contact points. When you turn on a device or an appliance is turned on, electricity flows between those contact points to provide the object with energy to operate. However, when you power down or turn off these electrical devices, the electricity does not stop flowing instantaneously. Instead, a remaining arc of electricity still flows between them temporarily. If you ever hear a snapping sound when you turn off a light or another device, that arc is what you're hearing.
Typically, these arcs of electricity are minor, and standard circuit breakers are designed to ignore them. If they didn't ignore them, the arcs would trip the breakers every time you use the circuit. However, while these typical circuits get ignored or overlooked, accidental ones do not, and those can cause severe problems. These types of arcs may be caused by faulty wiring or if the wires themselves have become damaged over time.
How Do Arc-Fault Circuit Interrupters Work?
AFCIs have a design that interrupts these faulty, accidental arcs, thereby preventing thrown breakers, sparks, fires and other disasters. They can distinguish between regular, harmless arcs and the more dangerous ones that are likely to cause fires, and they step in to interrupt the latter.
Arc-fault circuit interrupters are helpful because they prevent fires, which has probably saved hundreds of lives since electricians began using them more widely in homes. However, their actual function is straightforward. A typical harmless electrical arc, the kind resulting from powering off a light switch, for example, lasts a matter of only a few milliseconds.
The more dangerous arcs that result from faulty wiring last longer, though. AFCIs work by measuring the length of time of an electrical arc. If it continues longer than 10 milliseconds, the AFCI interrupts the circuit, cutting power to that particular outlet in order to prevent sparks that could start a fire.
How to Use Arc-Fault Circuit Breakers
AFCIs work too quickly for a person to see or detect, making them relatively sophisticated pieces of equipment. You will perceive that the reset button on your outlet pops out. When that happens, you may also hear a snapping sound. You will need to push it in to use that outlet again.
AFCIs will not prevent thrown safety breakers. Breakers are thrown when an electrical current dips or surges beyond 5 amperes. If that happens, you will need to reset the breaker and the AFCI before restoring power. If you have an outlet or a light switch in your home that isn't working even though the breaker in your electrical box is not thrown, it might be a tripped AFCI somewhere else in your home. Check all of your AFCIs.
Finally, if you have an older home without any AFCIs installed, you might want to consult an electrician to work on the wiring in your home. While electrical work can be expensive, it's nothing compared to the devastation of a fire.