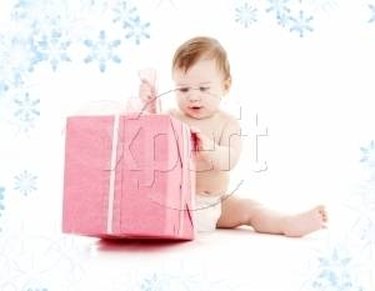 A baby registry is a list of items at a specific store that the new parents would like to receive as gifts. This helps ensure that the couple receives gifts that go with their nursery decor and that they do not receive duplicate items. Parents can register at as many stores as they want, but most couples register at one or two stores. One consideration when selecting the stores to register is the location of the store in comparison to the location of most friends and family. However, if the store has a website and an online registry, then location is less of an issue.
The parents go to the store and create the registry. Typically, they either enter their information themselves into a kiosk computer, or a store clerk sets up the registry. They then scan the bar code of the items that they wish to receive. It is important that the parents register for items in a variety of price ranges. The clerk then downloads the items into a computer file and creates the registry. When registering online, you enter information directly into a special section of the store's website that family and friends will have access to..
When friends and family are ready to purchase a baby gift, they go to the store where the couple registered, print a copy of the registry from the kiosk and find the item that they want to purchase. When they purchase the item, the cashier scans the registry paper and the item is removed from the registry. Friends and family can also shop online using the registry on a store's website.