Things You'll Need
Grass seed

Starter seed fertilizer

Measuring tape

Seed germination blankets

Stakes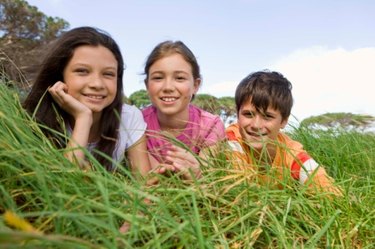 Seed germination blankets are products made by DuPont. According to the manufacturer, they help newly planted grass seed grow faster, becoming a greener lawn. DuPont claims that the blankets, which are made of aspen wood fiber and a one-sided polypropylene netting, improve seed germination by 200 percent. The biodegradable mats help cut down on erosion, protect the seeds from runoff and birds, and encourage germination. They also keep weeds from stealing nutrients the grass seeds need. Use seed germination blankets over existing grass if you are overseeding or repairing dead patches.
Step 1
Prepare the ground. Remove dead grass or weeds from the areas that need to be reseeded. Add starter seed fertilizer and spread the seed evenly.
Step 2
Measure the grassy area. The seed germination blankets measure 4 feet by 50 feet in size. Do the calculation and decide how many you will need to cover the yard. They can be cut, if necessary.
Step 3
Place the germination blanket at one end of the lawn. Unroll it across the yard, with the netting facing up. Be careful not to walk too much on the seeded areas.
Step 4
Overlap one end of the blanket over the next piece to ensure even coverage. Let them overlap 3 to 4 inches.
Step 5
Secure the mats with DuPont biodegradable stakes. They are available in 12-packs. Insert one every 3 to 5 feet along the edges. Put a few where the pieces of the cover overlap. The stakes will biodegrade, so they don't need to be removed.
Step 6
Cut small pieces of the seed germination blanket to cover brown spots and promote regrowth. Make the pieces to size, spread some grass seed, and lay the mat down on top of the seed. Secure the pieces with stakes to keep them in place.