Native to South Africa, Gerbera daisies are also called Gerber daisies or Transval daisies. These flowers are a perennial plant if grown in the proper climate. Gerbera daisies do best when the temperature is between 68 and 70 degrees.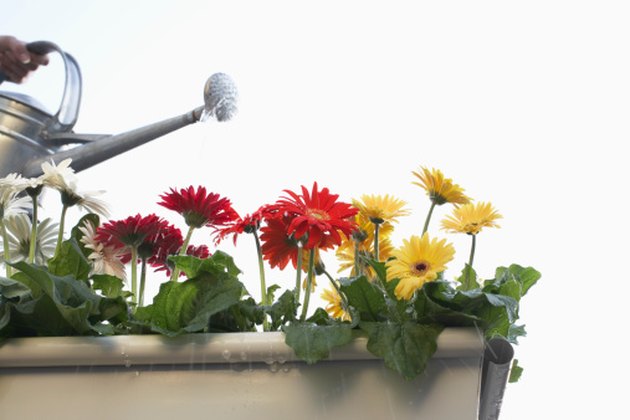 Geography
Gerbera daisies grow in South Africa, Asia and South America, and many places in between. All of the areas in which Gerbera daisies grow naturally have mild climates; the local temperature remains in the mid-60 to mid-70-degree range year-round. Although a Gerbera is hardy enough to survive an occasional dip or jump in the temperature, a hard frost will almost certainly kill the plant if it's left outside.
Light Requirements
Gerbera daisies prefer to have full sunlight and can even benefit from having additional, artificial light when grown indoors. If you choose to winter your Gerbera daisies indoors, be sure to place them somewhere in which they will get adequate light; otherwise, they may wilt and die out.
Growing Indoors
Gerbera daisies can be successfully wintered inside, as long as you keep your temperature mild, their lighting abundant and their moisture moderate. Beware that these plants do not like to be in temperatures that are much above 70 degrees; if you keep your house overly warm, they may not do well.