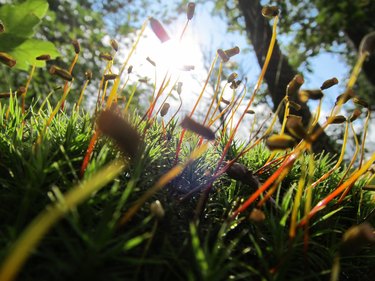 Garden soil additives help plants thrive by adding things lacking in the ground, but you have to choose carefully for the best results. There are many from which to choose, and if you don't know about the benefits of peat humus vs. compost, it is wise to educate yourself. You'll need to test your soil first to see if there is a pH imbalance, excess salt or nutrient deficiencies. Then, move on to learning about things like peat moss, peat humus, clay soils and topsoil.
Is Peat Humus the Same as Peat Moss?
Peat humus and peat moss are both made from sphagnum moss, but humus is a highly decomposed substance, while peat moss is only semidecomposed. The humus is suitable for mulching and improving soil fertility, while peat moss is best used for improving soil aeration, adjusting soil pH and propagation. This distinction can be confusing, so what exactly is the difference between peat and humus?
Peat humus and peat moss often get confused because the terms are so similar, and you can use them in similar ways. Peat moss is a spongy material formed when organic matter, like plant materials, partially decomposes in wetlands, like bogs and swamps. Humus takes much longer to form, and it is basically what's left over after decaying plants, insects and animals break down into the tiniest molecules possible. Peat humus is darker and has a finer texture; it consists of thoroughly decayed material, unlike peat moss.
Is Peat Humus Good for Vegetable Gardens?
Both peat humus and peat moss can be good for vegetable gardens. Peat moss is a good soil amendment because it adds water-retaining properties and acidity to a garden; for example, it helps with crops like tomatoes that do best with a soil pH of 3.5 to 4.5. Mix the peat moss with additional materials, like compost and perlite, for the best results. To add it to an established garden, add a 2- to 3-inch layer to the soil and mix down 12 inches until it's well incorporated. Since it decays so slowly, it should last for several years.
Peat humus is also great for acid-loving plants and can give tomato gardens a real boost. It doesn't provide nutrients, though, so you'll need to regularly add organic fertilizer and water. Peat humus for clay soils is also a good benefit because these soil types are slow-draining and heavy; it also provides a structure for raised beds.
Should I Use Humus for My Plants?
Peat humus does not contain nutrients but provides structure; retains moisture, nutrients and heat; and provides acidity. Steer clear of amorphous peat humus because it is highly acidic and has a poor structure; granular peat humus has a better structure and is less acidic. Besides tomatoes, humus is a suitable soil amendment for azaleas and gardenias. It's only used in soil mixes since it doesn't contain nutrients.
You don't want to add peat humus to compost since the humus doesn't need to break down. You can add peat moss to your compost pile, though, since it improves the overall moisture retention of the pile. If you want to help your lawn, choose to add a top dressing of peat moss combined with topsoil and sand. Peat moss is also better for potted plants and seed starting because it's lighter and less expensive.