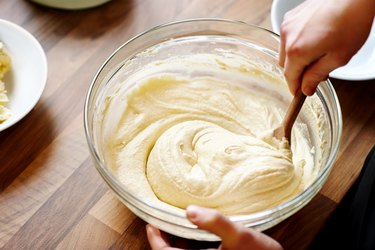 Butter and nut vanilla flavoring, which is also known as vanilla butternut or cake batter flavoring, is a flavoring agent primarily used in home-baked goods. As its name promises, this product imparts a delicious blend of vanilla, nut and butter flavors and aromas to culinary creations. Some home cooks and bakers find using this flavoring product preferable to adding any of those component flavors alone, as it offers a complex taste with just a few drops. If a recipe calls for butter and vanilla nut flavoring but you're unable to find any, there are quite a few appropriate substitutes to consider.
The McCormick company previously produced a butter and nut vanilla flavoring product, which it has rebranded as "cake batter flavoring." If you're unable to find the product under its previous name, look for the new name on supermarket shelves. The company promises the formula is identical and only the name has changed.
The Easiest Substitute for Butter and Nut Vanilla Flavoring
Butter and nut vanilla flavoring is a flavoring product comprising vanilla, nut and butter flavors. The most obvious and closest substitute is to use a combination of vanilla flavoring, nut flavoring and butter flavoring products. Vanilla extract and almond extract are both readily available as are butter flavoring products, although you might need to go online or to a specialist store for the latter. You could substitute other nut extracts for almond if you prefer.
When using these individual extracts and flavorings, substitute the combined measurement one to one for the amount of butter and nut vanilla flavoring called for in a recipe. For example, if your recipe calls for 1 tablespoon of butter and nut vanilla flavoring, substitute 1 teaspoon each of vanilla, nut and butter flavorings. You might want to experiment with these proportions, perhaps adding a little more of the vanilla and less of the nut and butter flavorings to get the flavor profile you desire.
Other Substitutes for Vanilla Flavoring
A wide variety of vanilla substitutes are available to bakers. Some excellent choices for vanilla substitutes include vanilla powder, which is dried and ground vanilla beans, and vanilla paste. The packaging for these products should indicate how much to use as a substitute for vanilla extract. Whole fresh vanilla beans, while expensive, are also a great substitute for vanilla extract; in fact, they're an upgrade. Scrape seeds from a fresh vanilla bean and optionally simmer the pod in the liquid ingredients for the recipe if appropriate. Use approximately 1 inch of vanilla bean to substitute 1 teaspoon of extract.
Another way to impart a vanilla flavor into your baked goods is to use vanilla sugar, which you can buy or make yourself by storing fresh vanilla beans in your sugar container. Simply substitute vanilla sugar for the regular sugar in a recipe. Vanilla-flavored liqueur might be appropriate. It's not as strong as vanilla extract, so use a little more and adjust the liquid in the recipe accordingly. Vanilla-flavored nondairy milk might be an appropriate substitute for milk or water in a recipe.
Other Substitutes for Nut Flavoring
One substitute for almond or other nut extracts when you're trying to replace butter and nut vanilla flavoring is an almond liqueur – for example, Amaretto. Use it in the same way as advised for vanilla liqueur. A nut-flavored syrup, such as those used in coffee shops, can also give a robust nut flavor, although these are very sweet, so cut down on the sugar in a recipe. Almond milk could replace water or milk in a recipe, and you might substitute ground almonds for some of the flour. Depending on the type of baked goods you are making, consider adding chopped nuts to the batter or adding nuts as a topping.
Other Substitutes for Butter Flavoring
There aren't any direct substitutes for commercially made butter flavorings, but there are a few ways to amp up the buttery flavors in baked goods. An easy one is to use higher quality butter, such as a fancy European butter with a higher fat content. If you usually use margarine or other butter alternatives in a recipe, switch to the real thing.
Experiment with substituting brown butter to impart a rich, nutty, toasty flavor to baked goods. Making brown butter is quite straightforward, but the water loss from the butter means adjustments are necessary. Add 1 tablespoon of water back to a recipe for every stick of brown butter. Depending on your recipe, it might be necessary to chill the brown butter after preparing it but before baking with it.