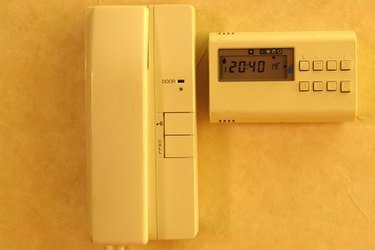 If you decide you want a home security system, it is important to choose one that is effective, reliable and meets your personal lifestyle. There are two types of alarm systems - local and monitored.
Local
A local alarm system is one that does not notify the police if there is a breach of security. It usually has strobe lights, a bell or a siren that activates during a break-in. Local authorities or an alarm company are not notified if security is breached and the alarm activated. The police only know if someone contacts them.
Monitored
A monitored system is one that is tied to an alarm company for a monthly fee. The company monitors the alarm 24 hours a day and if the alarm is tripped, the owner and a local law enforcement agency is notified.
Warning
Many municipalities fine owners with monitored systems if too many false alarms are reported because of the resources expended to respond to the alarms. When contracting for a security alarm system, choose a system that is reliable and installed by bonded and licensed personnel from a reputable company. Don't use a monitored alarm system if you are forgetful and may not remember to disable the system when necessary. The false alarm fines could cost more than the system itself.