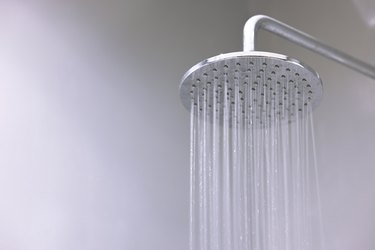 Fiberglass showers are made from glass fibers, resin and reinforced plastic and are lightweight, inexpensive and easy to install and repair. Since they are often in contact with water, you may very well find mold in showers from time to time. Though it does not grow directly on fiberglass, mold and mildew are both fungi that can grow on dirt, soap scum and grease on the surfaces.
Identifying Mold and Mildew in Showers
Mold can form in many damp locations, including on shower walls, fixtures, grout and other places, like ceilings. The common symptoms of mold include black, yellow and pink spots and musty smells. Mildew in showers looks different. It is white, flaky and more likely to show up on drainage areas and showerheads. Mold tends to be more hazardous for your health and can lead to respiratory problems and allergic reactions.
It is always wise to clean up mold and mildew as soon as you see it because they will spread if you leave them alone. To clean mold in showers, add 1 cup of bleach to 2 cups of water. Pour that shower mold cleaner solution into a spray bottle, spray the area and allow it to sit for five minutes at minimum. Wipe it with a clean cloth and see if there is any mold or mildew left. If you haven't completely removed the mold or mildew, you can repeat the process.
How to Remove Black Mold in Showers
When cleaning mold, it is best to wear protective gear, like a mask and gloves. Open a window or turn on a fan.
You can try removing black mold with the same method of using bleach, and if that doesn't solve the problem, you can measure out some baking soda and add enough water to form a paste. Apply this to the mold with a clean sponge and let it sit for 10 minutes. Wipe this off with a clean, damp rag. Rinse it with more water and wipe dry.
Fiberglass Shower Cleaners
It's a good idea to clean your fiberglass shower once a week, and you can do this with a homemade fiberglass cleaner. To make the solution, combine one part vinegar to three parts water. Clean and rinse well. Alternatively, you can sprinkle baking soda onto the floor, let it sit for several hours and then rinse with hot water. Use a squeegee to remove any leftover remnants. Other experts recommend using hydrogen peroxide; combine it with two parts water and spray it all over the shower. Leave it overnight and rinse with hot water the next day.
Remember that abrasive cleaners will damage fiberglass showers, so avoid using these cleaners and abrasive scrubbing tools. If your homemade remedies aren't doing the job, you can buy products designed for this, but you should read the labels to ensure they are safe for your fiberglass shower. Some of the better-known products are Mr. Clean Magic Eraser Bath; Tilex; ECOS Bathroom Cleaner; and Weiman Tub, Tile and Fiberglass Cleaner.