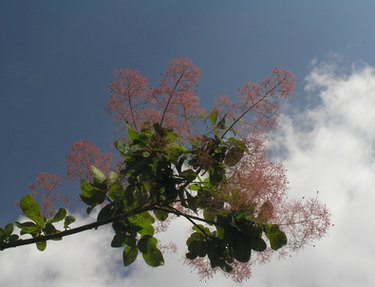 The plant known as the smoke tree (Cotinus coggygria) is a deciduous shrub native to parts of southern Europe and central China. While there are not many smoke tree problems to worry about, a fungal condition known as verticillium wilt is fatal. The smoke tree is hardy in U.S. Department of Agriculture zones 5 to 8, and like any other plant, it may die if it is planted outdoors where it is not winter hardy.
Smoke Tree Characteristics
Contrary to what its name suggests, the smoke tree is not a tree but rather a shrub that reaches heights between 10 and 15 feet. These trees produce small yellowish-green flowers from May to July. However, it is in late summer that the plant's distinctive feature can be appreciated: As the flowers of the smoke tree wither, they produce stalks that are covered in pink or purple filaments. This results in ethereal plumes reminiscent of smoke that inspired the plant's common name.
As deciduous plants, smoke trees are often planted for great fall color, though the color progression will vary depending on the cultivar. For example, the Royal Purple smoke tree (Cotinus coggygria 'Royal Purple') has purple foliage that turns a scarlet red in the fall. The smoke tree leaves of the Notcutt's Variety smoke tree go from deep red in the summer to an orange-red in autumn. The Gold Spirit smoke tree (Cotinus coggygria 'Ancot') features golden foliage that also turns orange and red come fall.
Smoke trees are not prone to many insect infestations or diseases, although they can develop leaf spot and rust. The most serious problem of smoke trees is called verticillium wilt. This disease is caused by two species of fungi that live in the soil: Verticillium dahliae and Verticillium albo-atrum. The fungus enters the smoke tree through its roots. Eventually, the fungus clogs the plant tissues that transport water, known as xylem. This causes the smoke tree to wilt, so you may see the smoke bush leaves dying.
The most notable symptom of verticillium wilt is branch die-back, which may occur throughout the shrub or in a specific section. You may also see yellowing of the leaves and leaf drop. Unfortunately, there is no way to save a smoke tree or any other plant that has become infected with verticillium wilt.
Once you know the soil is contaminated with this fungus, is it best to consider plant species known to be resistant to the disease. The fungi that cause verticillium wilt can also spread on pruning tools, so it is important to decontaminate them by dipping them in a 70 percent isopropyl alcohol solution.
In the absence of a disease, smoke tree leaves or the entire plant can die without proper care and cultural practices. Smoke trees grow best in full sun, which is equal to six hours of direct sunlight a day. While smoke trees may survive in the shade, the color of their foliage will be diminished.
You'll want to water a smoke tree regularly during the plant's first few years. However, once it is established, it can handle dry conditions. A smoke tree can handle many types of soil, including acidic and alkaline soils, but good, consistent drainage is a must.