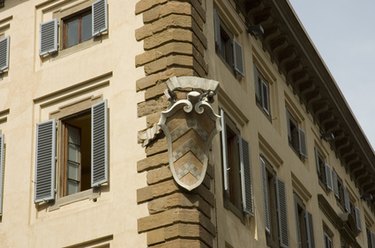 A coat of arms often displays multiple heraldic symbols representing aspects of the families who bear them. The chevron is one such figure. Appearing in various sizes and colors, the chevron is usually interpreted as signifying protection, although it may have other meanings.
Appearance
A chevron resembles an upside-down "V" shape and can come in various forms. For example, Pimbley's "Dictionary of Heraldry" explains that a "chevron couped" is one which does not extend all the way to the sides of the shield. A "chevron in chief" has a point which reaches the top of the shield, and a "chevronel" is the small version of the chevron, "being half its breadth."
Honorable Ordinaries
The chevron represents one of nine "honorable ordinaries" in heraldry (also including Chief, Pale, Fesse, Bend, Cross, Saltire, Pile and Quarter). Pimbley's explains that these ordinaries stand for the "clamps or fastenings of the shield; becoming more ornamental from painting or gilding."
Symbolism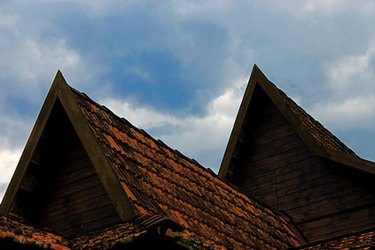 Like most images on the coat of arms, the chevron has its own meaning. William C. Wades' "The Symbolisms of Heraldry" notes that the chevron's shape resembles the roof of a house. It was awarded to a coat of arms as a "reward to one who has achieved some notable enterprise…sometimes… those who have built churches or fortresses, or who have accomplished some work of faithful service."