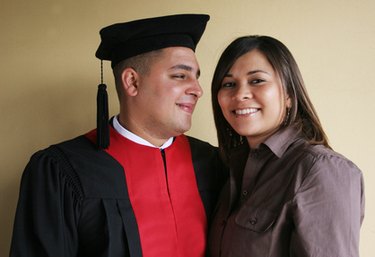 It's one of the biggest moments in a young person's life, so attending a high school graduation ceremony warrants a little extra effort in the clothing department. That said, being noticeably overdressed may steal some of the focus from the student you're there to celebrate. Choosing high school graduation outfits is all about striking the right balance between "dressed up" and "not the guest of honor" as well as preparing for sometimes unpredictable early summer weather.
Consider the School Culture
Some high schools are super casual about graduation, and no one blinks when guests show up in shorts and flip-flops. Others are so formal that they have an official graduation dress code for guests. Most schools fall somewhere in between, and graduation guests generally choose to dress in business casual or semiformal attire.
If you're attending a graduation at an unfamiliar school, ask the graduate's parents for insight on how the other guests will likely be dressed. The school's website or social media channels might also have photos or videos from past graduations, which could help you assess how guests generally dress for these events. As long as you wear neat and respectful clothing, you shouldn't look out of place at any graduation ceremony.
(Unofficial) Graduation Dress Code for Guests
While many schools do have a strict dress code for students at graduation, it's fairly uncommon for schools to distribute an official code for guests. That said, the student dress code for high school graduation outfits will give you a good indication of how you should dress for the ceremony. You can safely assume that if your outfit would be appropriate for a graduating senior to wear, it's probably appropriate for you.
Generally, guests dress for these ceremonies like they might dress for a daytime wedding, religious services or a job interview. Male guests wear dress pants with collared shirts or may wear full suits. Female guests wear sundresses that fall near the knee, blouses and skirts or dress pants with blouses or collared shirts. Guests generally don't wear T-shirts, jeans, casual shorts, casual sandals or revealing garments, like strapless tops.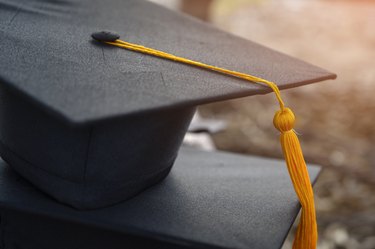 For footwear, dress shoes or dressy sandals are the standard choices. Think about where you'll be sitting and walking when choosing your shoes. Women may not want to wear stiletto heels if they'll have to cross a wet football field to get to the ceremony or if the audience chairs are set up on grass.
The dress code is just one consideration when choosing high school graduation outfits. Comfort, climate and photos are other factors. These ceremonies can last for three or more hours, especially at big schools with many hundreds or even thousands of students. Don't wear pants that are a little too snug or a dress that's hard to sit in. Keep in mind that you'll probably be posing for many photos at the end of the ceremony, so stay away from garments that will wrinkle while you're sitting.
Prepare for uncomfortable temperatures too. At an outdoor ceremony, you may spend hours sitting in the hot sun, or you may be misted with rain or shivering on an unseasonably cold day. Check the day's forecast before finalizing your outfit choice and come prepared with sunscreen, a sweater, an umbrella or whatever else the forecast suggests you might need.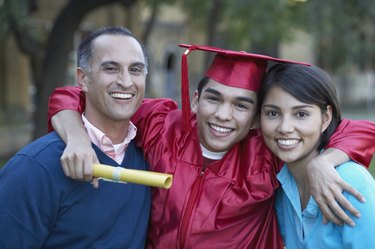 An indoor ceremony may be held in a stiflingly hot gym or freezing-cold auditorium, and it can be hard to predict how comfortable the venue will be. If the ceremony is being held in the same place it's been held in previous years, ask parents of previous graduates to find out what they remember of the experience. You can also wear a few lightweight layers so you can adjust your comfort as necessary.