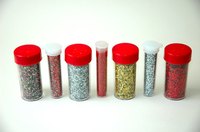 Glitter is tiny pieces of plastic or foil that reflect light and sparkle. It is used to adorn such things as crafts, clothing and seasonal decorations.
History
In 1934 Henry Ruschmann, a New Jersey machinist, originated a way to grind plastic sheets to make glitter.
How Glitter Is Made
Glitter uses a variety of materials including paper, glass and plastic. Plastic and foil rolls of one or many thicknesses are cut into squares, rectangles or hexagons that are only 50 to 6,250 microns in size.

Colors
As well as making glitter pieces of specific colors, manufacturers sometimes simply mix together numerous shades of glitter particles in the proportions needed to create the overall color desired. Therefore, the color of the individual pieces of glitter in a container may be completely different from the color the glitter appears to be as a whole.

How Glitter Glitters
Light reflects off the flat surface and edges of each piece to create sparkle. Most glitter is cut into a hexagon shape to create more edges to reflect light.

Warnings
Glitter is not particularly environmentally friendly because it is not biodegradable. It cannot be recycled and is considered a pollutant. Much of it falls off and gets into the water table and, because glitter is heavier than water, it sinks and becomes part of the toxic sludge that gathers on the bottom of streams and lakes.