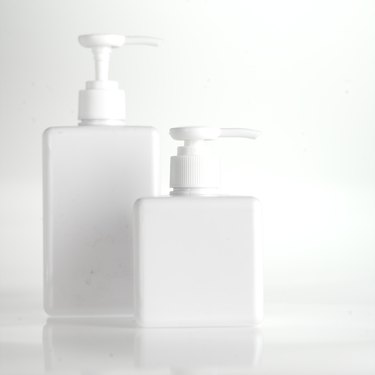 Tincture of green soap is a liquid disinfectant made of natural ingredients. It is prized for its gentleness and antibacterial properties. While not common in domestic spaces, tincture of green soap is widely used in a variety of medical and commercial settings – such as hospitals, veterinary clinics and tattoo parlors – where keeping a clean, uncontaminated environment is paramount. As a result, green soap is often sold in bulk and diluted with water as needed.
Tincture of Green Soap Ingredients
Tincture of green soap typically consists of two main ingredients: glycerin and vegetable oil. It is this combination of ingredients that is responsible for the greenish tint that gives the soap its name. Since it contains glycerin, green soap conditions the skin in addition to cleaning it and can prevent roughness or itchiness. Depending on the manufacturer, green soap may also contain ethyl alcohol or lavender oil. In some cases, green soap can contain coconut oil.
Because it has no animal products or dyes, tincture of green soap is a good option for anyone who is committed to a vegan lifestyle. It is also biodegradable and therefore considered a more environmentally-friendly alternative to other kinds of disinfectants. Green soap is also favored in commercial settings because it is not only effective, but also considered mild.
Commercial Green Soap Uses
Because of how gentle it is on the skin and the fact that it has antibacterial properties, tincture of green soap is a popular choice among tattoo artists, who use it to clean the client's skin before the procedure, which helps prevent infections. Once the procedure is complete, a tattoo artist may also use green soap to wipe away any blood or ink from the skin. This may also help the tattooed skin heal.
Many medical professionals and veterinarians will wash their hands with tincture of green soap before donning gloves to perform an operation. And both surgeons and tattoo artists may also use green soap to disinfect their instruments.
Green Soap for Personal Use
Though it is available in stores and online from many retailers, tincture of green soap is not commonly sold for mass consumption. However, if you are willing to purchase green soap by the pint or gallon, you can mix it with water to make a milder, natural alternative to harsh cleaners. Tincture of green soap is effective for cleaning floors, sinks and other household surfaces that may harbor bacteria.
Though not common in personal care products, tincture of green soap may be a tempting choice for people who are allergic to the fragrance and other irritating ingredients that are found in many soaps. As long as you are not sensitive to any of its components, you can use green soap as a face or body wash.
Tincture of green soap can even be used undiluted as a shampoo. If you do decide to wash your hair with tincture of green soap, keep in mind that, like any other soap, it can cause irritation if it gets into your eyes.