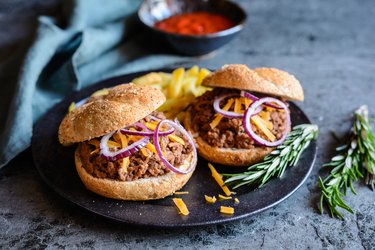 Sloppy Joes — loose ground meat cooked in a sweet-tart tomato sauce, then piled on a bun — are almost but not quite a meal in themselves. Sloppy Joe sides should match the casual feel of the meal, and not be too fussy. The sandwiches themselves are fairly filling, so gauge the heft of your side dishes by the season and the meal: You can offer more substantial side dishes at dinnertime or in cold weather; or lighter ones at lunch or in summertime.
Cole Slaw and Variations
As a rule, any salad that's simple and durable enough to take on a picnic is a good candidate to go with your sloppy Joes. One of the most classic of these options is cole slaw, in one of its traditional versions or in any variation that appeals to you. Just keep in mind the sandwich's own flavor profile, and work around that. An Asian slaw with Napa cabbage, chilies and sesame oil might be good on its own, but it doesn't really complement a sloppy Joe. A carrot-based slaw, red-cabbage slaw or even one with Mediterranean ingredients like fennel would be good alternatives, if you're tired of the same old thing.
Pasta-Based Salads
A cold pasta salad is one of the most versatile sloppy Joe sides. Choose any bite-sized pasta — elbow macaroni, farfalle (bowties), penne, fusilli and many others are all good options — and decide between regular, whole-grain or rainbow-colored varieties with vegetables in the dough. Next, decide between a vinaigrette or a mayonnaise-based dressing. Finally, choose a variety of fresh and colorful add-ins such as diced bell peppers, shredded or spiralized vegetables, fresh herbs, diced pickled vegetables or your favorite cheeses. You could serve a different pasta salad every day, all summer long.
Varied Potato Salads
Like pasta salads, potato salads come in any number of varieties. The simplest consist of new baby potatoes, steamed or boiled and then served in a light vinaigrette with fresh herbs. More traditional backyard favorites are mayonnaise based and typically contain ingredients like celery, green onions or hard-boiled eggs for their colors and textures. For a bold effect, try adding a cup of diced pickled beets and some of their juice to your potato salad. It will give the salad a vivid magenta color that makes a striking contrast with green salads and other sides.
Green Salad
A large lettuce-based tossed salad is another good option to pair with sloppy Joes. You can make this side dish as simple as a tangle of baby greens dressed with a vinaigrette, or as complex as a fully loaded chef's salad complete with creamy dressing. A crisp romaine lettuce is particularly nice here, as it plays off the soft texture of the sloppy Joe well. You can also add crispy and crunchy ingredients such as croutons, sunflower seeds, nuts and raw carrots and celery to a softer lettuce salad for the same effect.
Other Vegetable Sides
Corn on the cob's sweet flavor matches well with the sweet and tangy sloppy Joe sauce, so definitely consider it as a side dish. Sauteed green beans are more subdued in flavor, but if cooked to maintain a bit of their crunch they provide a pleasant textural contrast to the soft and meaty character of a sloppy Joe. Steamed cauliflower or broccoli, dressed with sesame oil, brown butter or olive oil and lemon, is another good option. Some pickled vegetables add a nice tang to contrast with the sweetness of the sloppy Joe sauce. In a pinch, raw carrot sticks can be served — kids in particular often like this option, and it's easy to boot.