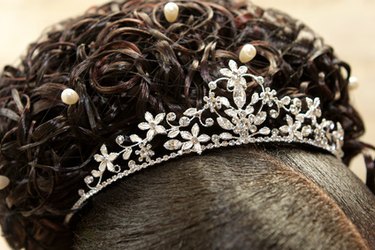 A Quinceañera is a part of Latino tradition that celebrates a young woman coming of age. The young woman is introduced to society through a celebration that serves as a rite of passage. The festivity is similar to a debutante party, although it has its roots in Aztec culture. A Quinceañera is celebrated on a young woman's fifteenth birthday and is accompanied with a traditional mass of thanksgiving and a party that follows afterward. Throughout the religious ceremony and party the young woman is given several symbolic gifts.
Religious Gifts
Most Quinceañeras begin with a mass, following the Catholic tradition. During the ceremony, the young woman's godparents will give her a bible, a cross and a rosary. Each symbolizes the young woman's allegiance and ties to her religious faith. The bible is to keep the word of God in her life, the cross as a reminder of faith and the rosary for prayer. Sometimes a young woman will be given flowers to offer the Virgin of Guadalupe.
Scepter
The young woman's parents or godparents give a scepter as a symbol of authority, just like royal regalia. This gift symbolizes the transition from childhood to womanhood, as it represents the young woman's responsibility to her community.
Tiara
Similar in royal symbolism and allegiance to community, the tiara is given to the young woman to show that she is a princess before God and her family. For the first part of the celebration, the young woman wears a headpiece until the moment that she is presented with the tiara.
Jewelry
A full jewelry set with earrings, a ring and a matching bracelet may all be given to the young woman on her special day. The earrings serve as a reminder to listen to the words of God and the ring with the bracelet symbolize the circle of life and the passages that she will go through.
Last Doll
The father of the young woman will present her with a doll that represents the end of childish ways and her entrance into womanhood. The doll is kept as a reminder of the occasion.