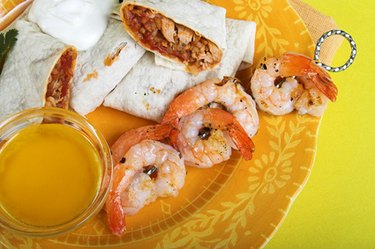 All countries have their Easter traditions and Mexico is no exception. For Christians in many parts of the world, the week leading up to Easter is a somber time with food restrictions. Mexicans celebrate the week leading up to and including Easter in a different way. In Mexico, there are certain foods that are traditional during this time and the people celebrate in a festive way with street carnivals.
Fish Dishes
In Mexico, there are certain days during Lent when Catholics are not permitted to eat meat. Therefore, in Mexico fish becomes a food eaten during the time leading up to Easter. Fish soup made with pieces of fish and lima beans is one meal that is served during the Easter season. Shrimp is eaten raw or in patties covered with a traditional sauce called Pipian, made with spices and pumpkin seeds. Dried shrimp patties may also be used with sprigs of a wild plant called romerito, which resembles rosemary, and potatoes in a mole sauce.
Vegetable Dishes
Nopal is a flat-leafed cactus that is used in recipes. It is a versatile food, with part being considered a vegetable and part considered a fruit. Nopal is used in salads, in tacos and with eggs. Chacales is a dish made with a dried white corn that is broken into pieces and made into soup. Italian squash is dried and fried with tomatoes and onions. It is served with melted cheese.
Desserts
Capiriotada is a Mexican dessert served during Lent. It is basically a bread pudding that is made with toasted French bread, milk, cheese, butter, peanuts and raisins, covered with a syrup of cinnamon and brown sugar. Empanadas are fruit turnovers that are made with cherries, strawberries, apples, apricots or blackberries.
Mexican Easter Cheese
This traditional cheese is made of eggs, milk, sugar, vanilla and nutmeg. It is made into a ball and sliced into individual portions.
Carnival Treats
In Mexico during Easter week celebrations, street vendors sell aguas frescas, which are fruit-flavored waters. Fresh fruit ice bars (paletas) and ice cream are available. Raspados are shaved ices, similar to snow cones, that are sold from vendor carts.
Pambazos are chicken- or cheese-filled rolls that are covered in a spicy salsa. Another carnival treat is platanos, which are fried plantains with a sweet cream topping. Another sweet treat is mini hot cakes served with marmalade.