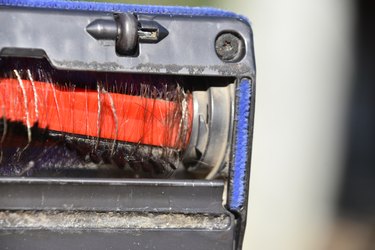 Buying a vacuum cleaner isn't as large a purchase as a car, but getting a good unit can be costly. A good warranty can be a factor in your purchase decision. If you are considering getting a Dyson, you should understand the terms and conditions of the warranty before buying. If you've already bought a Dyson, make sure you follow the rules to keep your vacuum cleaner covered by the warranty.
General Dyson Warranty Information
Dyson vacuum cleaners have warranties that are generally better than the competition. The company recommends that you check your owner's manual and documentation that came with your vacuum (most likely in case the terms change), but there are some rules of thumb that should apply.
Unless indicated otherwise in the paperwork, any corded Dyson vacuum cleaner purchased new (there are limitations on that to follow) has a five-year warranty. Cordless vacuums have a two-year warranty. Refurbished models are sold with a six-month warranty.
If you have a problem that is covered by the warranty, you can take the vacuum to a Dyson service center or send it in free of charge. Dyson will repair the machine if possible. All repairs use genuine Dyson parts. If repair is not possible, Dyson will replace your vacuum.
Point of Purchase Considerations
Make sure the purchase is made at an authorized Dyson dealer. In general, if it's coming from a big store, you can be fairly sure it is authorized to sell the vacuum. Private parties, though, are probably not. Dyson makes it clear that the company will not honor warranties on vacuums purchased from an unauthorized dealer. So saving a few dollars at a flea market may bet you a good price but it could cost you the benefits of the warranty.
Proper Parts and Accessories
If you need to buy parts for your Dyson vacuum cleaner, get authentic Dyson parts. This applies to add-on accessories, too. In addition, if you need any repair work done, take it to an authorized Dyson repair shop. Repairs done by unauthorized shops will void the warranty. Using parts that aren't authentic Dyson parts, or even accessories not specifically made for Dysons, will also negate your warranty.
The use of the vacuum in a way that's contrary to the methods described in the owner's manual can void the warranty. The same holds true of clearing a clog on your own. If you are careless in your usage (dropping it down the stairs, for instance), the damage won't be covered by your Dyson warranty. Damage caused by weather is not covered either, so keep it indoors and out of the rain.
Other Dyson Warranty Exclusions
Your Dyson vacuum cleaner is warrantied for standard domestic usage inside the boundaries of the United States. So using it outside the country will void the warranty. If you operate a cleaning business and use the vacuum for the performance of those services, the warranty will also be void. There is a specific exclusion for any equipment offered out as a rental unit, too.