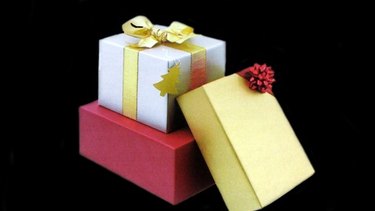 Hosting a birthday party should be a pleasurable experience, whether the party is for you or for another guest of honor, but the issue of gifts can become awkward. Some birthday honorees prefer not to receive gifts at all, others want specific kinds of gifts, and others want their guests to donate to charities in honor of their birthday. Although traditional etiquette encourages avoidance of mentioning gifts on invitations, there are other ways to communicate wishes related to birthday gifts.
If Gifts of Any Kind Are Welcome
The easiest way to deal with gifts for a party you are hosting is to welcome any kind of gift at all. This requires no specific wording or messaging on your part, on the invitation or elsewhere, since typically guests expect to bring a gift to a party and will use their own imaginations in doing so. Therefore, if you (or the guest of honor) are open to any kind of gift that guests choose to bring, avoid any mention of gifts on the invitation and leave it entirely up to your guests.
No Gifts At All, Please
Many adults prefer to avoid receiving gifts altogether. This might be because they are trying to cut down on material goods in their lives, because they consider it a financial burden on their guests, because they have very specific tastes that they acknowledge will be difficult for guests to match, or because they have some form of philosophical opposition to gift-giving. In these cases, it is considered appropriate etiquette to simply state a straightforward "No gifts, please!" on the invitation. Hosts who prefer to be a bit more coy in their language sometimes use a variation on the pun-influenced "Your presence is presents enough."
If Specific Kinds of Gifts Are Encouraged
It may be that the host or guest of honor for a party wants a very specific kind of gift based on a particular interest or plan that he or she has. For example, the kinds of gifts desired might be kitchen items, books, camping gear, or travel accessories, etc. The best way to communicate this is to theme the invitation toward that interest. Without actually stating what is wanted, you can make clear that the guest of honor is primarily interested in camping or cooking, and let guests infer that those are the gifts that would be most welcome. You can also have the guest of honor set up a gift registry. Although it is not considered good etiquette to list registry stores on an invitation, take the opportunity to mention it when guests RSVP.
Charity Gifts (Money or Goods)
Some party hosts or guests of honor choose to use the occasion of a party to collect for their favorite charitable cause, whether that is international aid, feeding the hungry locally, caring for abandoned animals, local education programs, the environment, or something else. When that is the case, a simple note included with the invitation can instruct the guests that in lieu of a present, they are encouraged to provide a gift (whether material, such as canned goods, or monetary) in honor of the host's particular charitable interests.
Other Ways to Get the Word Out
Traditional etiquette prohibits any mention at all of gifts on the invitation, but contemporary party-giving tends to eschew that formality. However, some hosts still comply with the rule of not referring to gifts on invitations. If that preference is honored, there are many other ways to communicate information about gifts. You can attach a small slip of paper or card with the invitation mentioning the gift-giving plan, communicate with the guest of honor's close friends in hopes that they will spread the word, or slip in a word about desired gifts when invitees contact you to RSVP.