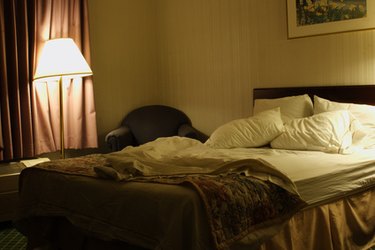 To keep bed linens smelling sweet and freshly laundered, linen water can be applied to linens directly after washing or while steam ironing. Linen water does not contain any cleansers, but typically contains either essential oils or perfumes. It is generally sold in bottles with misting nozzles to conveniently spray on linens. Users find that linen water imparts a subtle scented effect which they find pleasant or soothing when getting into bed.
Types
While linen water can include any scent, the majority of linen waters impart a lavender fragrance. Traditionally used in the south of France, where lavender grows in great quantity, linen water continues to frequently use the flowerâ??s scent. Other popular scents include flowers and fruits such as jasmine, verbena, violet, citrus, cinnamon or apples.
History
One of the most popular scents for bed linens, lavender, has been used by many cultures as a perfume for linens, baths and clothing. Native to the Mediterranean, its use in the south of France as â??eau de lingeâ? (linen water) has spread to adoption worldwide. As early as the 17th century in England, lavender was also used to scent bed linens. Throughout history, since Ancient Egypt, lavender has been used to impart its scent, and has been credited with everything from an aphrodisiac properties to prevention of headaches to repelling of evil spirits. (See References.)
Usage and Pricing
Bed linens of different scents may be selected according to the intended usage. In addition to adding a fragrance to bed linens, linen water can be used for tablecloths or even curtains. Linen water may contain some alcohol in addition to essential oils. For 33 oz, prices range from $5.99 to $39.99, with premium linen waters often imported from the Provence region of France. Depending on the intended usage, linen water may be diluted to the appropriate strength.
Homemade Linen Water
Making linen water at home is quite simple. Fill a 16 oz bottle with a misting nozzle nearly full with distilled water. Then add two or three drops of an essential oil of your choice. Lavender or verbena are widely-used scents and can be subtler than fruits or spices. Tightly close the bottle and shake the solution. Mist liberally over freshly-laundered sheets, duvet covers and/or pillowcases.
Precautions
If you are unaccustomed to using scents in your home or apparel, either dilute your first store-purchased bottle or make your first solution of linen water with just one drop of the essential oil. If you have any allergic reactions to scents or perfumes, take full precautions. If you do decide to try using linen water in spite of allergies, begin with an extremely diluted solution. If you use the diluted linen water on bed sheets, first try sleeping on the scented linens for a short period, such as a one hour nap. Have a spare set of linens laundered and ready in case you do not react well to the scent.