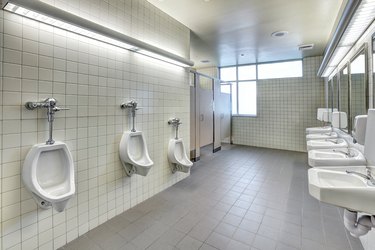 Urinals are not required in public bathrooms because building codes allow you to substitute them for toilets. It is also unnecessary to make a urinal accessible for people with disabilities if there is only one in the room. However, if there is more than one urinal in a bathroom, at least one must follow accessibility guidelines. The best place to find information about accessible bathrooms is the Americans with Disabilities Act (ADA) website, which provides guidelines for this and much more, down to the very last measurement.
How the ADA Regulates Accessible Bathrooms
A baseball stadium will need more toilets and urinals than a medium-size restaurant, and there are building and plumbing codes that pertain to this. The ADA doesn't get involved with this; its guidelines dictate which fixtures must be accessible. However, accessibility is mandatory in all toilet rooms for any new construction.
With single-user toilet rooms grouped in one location, at least half must be accessible. When there are single-user portable toilets (such as port-a-potties), access is mandatory for at least 5 percent in each grouping unless they are on construction sites for construction workers. Compliant portable units and toilet rooms should also be labeled accordingly by the international symbol of accessibility.
The ADA compliance regulations for titles II and III of the Americans with Disabilities Act of 1990 were revised in 2010 and have remained unchanged since then. Section 605 covers urinals, including the wall types and stall types. The second kind offers better accessibility for more kinds of people, including those with shorter statures.
As for the height and depth, the measurements are the same for both kinds of urinals. The rims on both have to be 17 inches above the ground. That rim should be 13 1/2 inches deep at a minimum, measured from the urinal rim's outer face to the back of the fixture. The ground beneath the urinal should be clear and unobstructed, with good knee and toe clearance and positioned for a parallel or forward approach to the urinal.
Having the right knee and toe clearance is also important. There must be between 9 and 27 inches of height for knee clearance from the ground to the bottom of the urinal and 25 inches deep for toe clearance. This clearance gives people enough room to maneuver properly. As for the flush controls, they can be hand operated or automatic. With hand controls, they have to be within a reach range of 15 and 48 inches.
My Bathroom Isn't ADA Compliant
Having an ADA-compliant bathroom serves the needs of employees, guests and customers, and it is also the right thing to do on an ethical level. Even if you didn't care about that, you could face significant fines for not following these essential guidelines. A first violation could cost you as much as $75,000, and each subsequent violation comes with a $150,000 price tag. For many small businesses, that sort of fine is simply not manageable.
That's not all. Facilities that do not have ADA-compliant bathrooms can also be subject to a significant number of lawsuits. If a person with a disability gets hurt in a noncompliant bathroom, he could end up with severe injuries and might decide to sue the facility and its owner. The safest route is following the guidelines, getting the bathroom inspected, putting up the proper signs and opening it for business. That way, you not only avoid lawsuits and fines but you also ensure that you're not creating unnecessary boundaries for people with disabilities.